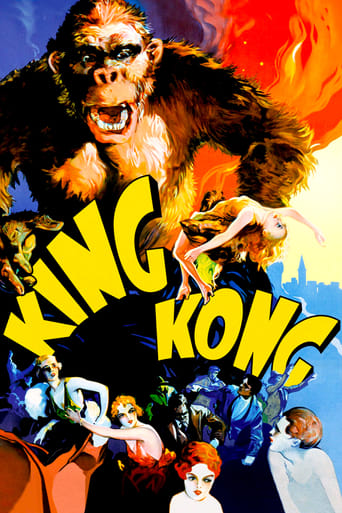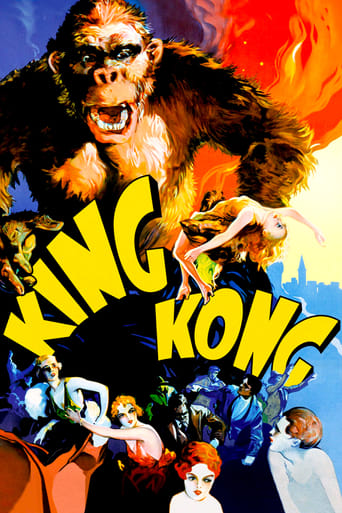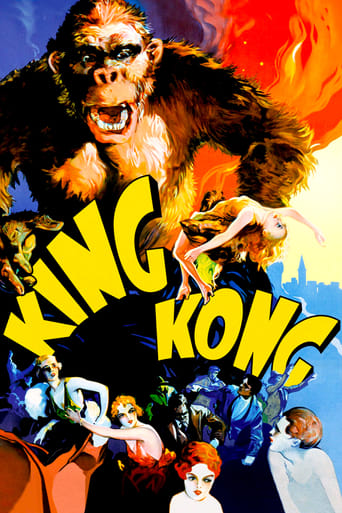 King Kong
1933
1 hr 44 min
Adventure , Fantasy , Horror
Adventurous filmmaker, Carl Denham, sets out to produce a motion picture unlike anything the world has seen before. Alongside his leading lady Ann Darrow and his first mate Jack Driscoll, they arrive on an island and discover a legendary creature said to be neither beast nor man. Denham captures the monster to displayed on Broadway as Kong, the eighth wonder of the world.
Cast:

Robert Armstrong , Fay Wray , Bruce Cabot , Frank Reicher , Victor Wong , James Flavin , Sam Hardy


Reviews
Good movie but grossly overrated
... more
The film never slows down or bores, plunging from one harrowing sequence to the next.
... more
It's simply great fun, a winsome film and an occasionally over-the-top luxury fantasy that never flags.
... more
The majority of the film didn't have dialogue, which is what old films stand on. So King Kong didn't work for me.I had a good feeling coming into this. It started out fine, on the boat travelling to the island, crew talking among themselves, setting foot on the island and back to the boat was all fine. I struggle with noise, so from the point in which Ann is taken and Kong is introduced in the film, it has frequent loud music and a lot of screaming by Ann, so I found it hard to enjoy. I thought Kong's face looked rather silly, though his body movements were fine, I found his chewing and stomping on people rather funny.
... more
I regard "King Kong" as the ultimate film noir! And why not? The way I see it, film noir can actually partner any genre, even slapstick comedies like "Abbott and Costello Meet the Ghosts" (1948), as well as horror and "monster" pictures like the prince of them all, "King Kong" (1933). This latter film is now available on an excellent Warner Brothers DVD which even includes Max Steiner's original "overture". To my mind, this music proves rather disappointing, but the restored movie itself holds up beautifully, thanks to solid writing, superb pacing and atmosphere, plus the sharp yet moodily attractive cinematography by Eddie Linden (the main unit) and James O. Taylor (the effects unit). Those of us who have seen the movie will never forget Kong himself. Nor will we overlook Fay Wray. Miss Wray, as we all know, never had a better part and never looked more alluring (though she actually did come close to both on at least three occasions). Wordy but occasionally relevant interviews on the bonus DVD disc confirm what I always suspected, namely that Carl Denham was simply Merian C. Cooper, while Bruce Cabot's Jack Driscoll is, to perhaps a somewhat lesser extent, based on Ernest B. Schoedsack himself.
... more
King Kong was never that interesting to me. I was never really a big fan of the character and I was hoping that this film would change my mind. However, this is a good film just not one for my taste. I just do not understand the appeal of these kinds of movies. I like the bond between the woman and Kong himself but everything else around them is just very uninteresting. However, the closing scene with Kong on top of the Empire State Building is a engaging scene but again, the film as a whole just doesn't really work for me.
... more
As i am not usually hot to see these kind of movies, only my curiosity drove me to the theater thinking to myself what sort of crap this 1933 picture must be. Boy, was i wrong! As the film goes on my eyes went from surprises to surprises how some scenes were so spectaculars in this early years of cinema. They did not have these «special effects» movie lovers enjoy to-day and that is why that «piece of crap» was really an extract of genius, a forerunner, or a film before its time, which certainly gave ideas and lead the way to develop all categories of special effects our eyes benefit to-day. Thanks to the technical genius, producers and director of King Kong 1933, who was the King of them all!Noël Charbonnier
... more