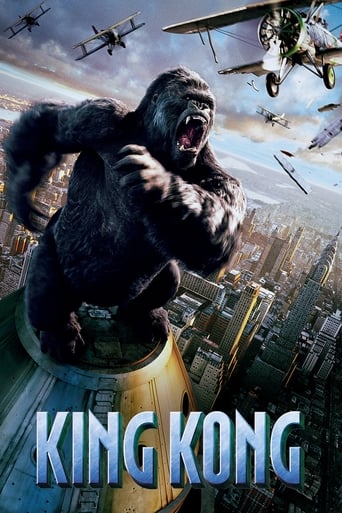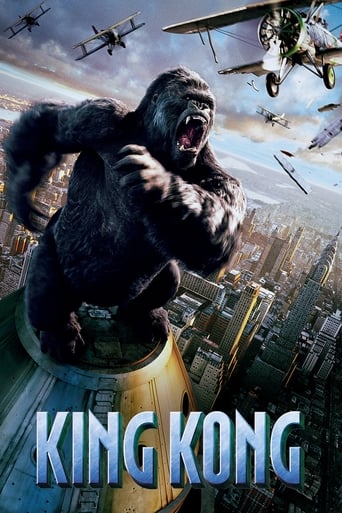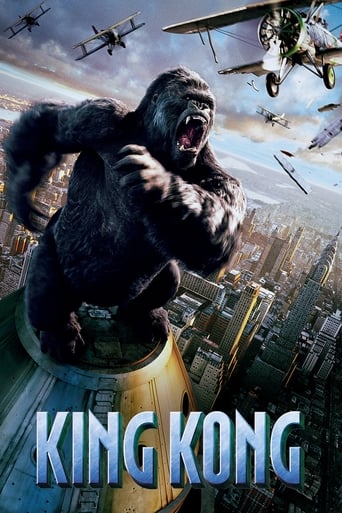 King Kong
2005
3 hr 7 min
Adventure , Drama , Action
In 1933 New York, an overly ambitious movie producer coerces his cast and hired ship crew to travel to mysterious Skull Island, where they encounter Kong, a giant ape who is immediately smitten with the leading lady.
Cast:

Naomi Watts , Jack Black , Adrien Brody , Thomas Kretschmann , Colin Hanks , Jamie Bell , Andy Serkis


Reviews
Great Film overall
... more
Fun premise, good actors, bad writing. This film seemed to have potential at the beginning but it quickly devolves into a trite action film. Ultimately it's very boring.
... more
It was OK. I don't see why everyone loves it so much. It wasn't very smart or deep or well-directed.
... more
One of the most extraordinary films you will see this year. Take that as you want.
... more
What a mess... It was long and boring even before they arrived in the island.And then the movie evolved into a video game. It was like trying to pass level after level battling the threats that had the shape of almost every animal menace ever appeared in a sci-fi bi movie: Big spiders, big ants, big scorpions, big flesh eating plants, big dinosaurs, smaller dinosaurs, big bats, they even touched "Alien" with some kind of larvae/eggs thingies. Realism? ok you do not expect much realism in a movie with all of the above, but well it was completely unbelievable how the humans survived this hell of monsters. Not to mention the natives of the island, who apparently only worried about Kong and miraculously have survived the bazillion of the other threats.As for the characters? All caricatures. Even the bugs acted better. The one character with some development was King Kong.I strongly recommend the 1933 movie. Less CGI but more heart. Hell, even the Jessica Lange remake was better..
... more
After his success with the Lord of the Rings, Jackson (like Martin with his endless Game of thrones books) needs to hire an editor. I'm also thinking his success with LOTR was a fluke since his version of this and the Hobbit, both suck. This is miscast, overlong and overdone. By the time the crew reaches Skull Island in this, the original, superior movie is OVER. Not every movie has to be three hours long. Also, if it's the middle of January, how is the heroine running around in NYC in a shift? He tried and failed to make a classic. STOP REMAKES!
... more
Although I was looking forward to Peter Jackson doing The Hobbit after the Lord of the Rings trilogy, this seemed like an interesting surprise. Not only do we get an update of the 1933 classic, we also get a more savage (and scarier) Skull Island. Plus an all-new cast and updated special effects. It's good for those of you who haven't seen the original but want to try something in the giant monster department. It's not as good as the original but it's one of the better remakes. Most remakes aren't that great (take the debacles that were Godzilla 1998 and Tim Burton's The Planet of the Apes) but this is one of those rare exceptions. Some say that the cast lacked chemistry but I think they succeeded. And the extended edition really worked with additional scenes. I heard the late Fay Wray (who played the original Ann Darrow) was going to have a cameo somewhere but she died before they could film it. But if you enjoy Peter Jackson's films and want to see massive creatures duking it out and lots of critters against humans, this is your ticket.
... more
I enjoyed this film because my kids loved it.The insect scene was brutal but I liked it.Nicely done.
... more