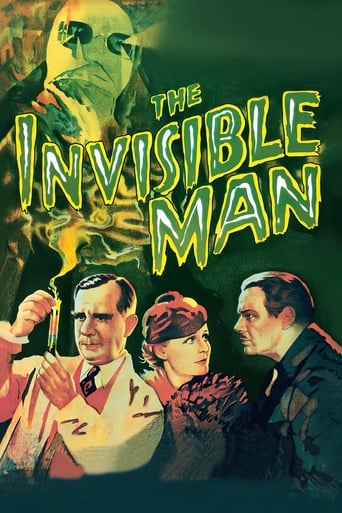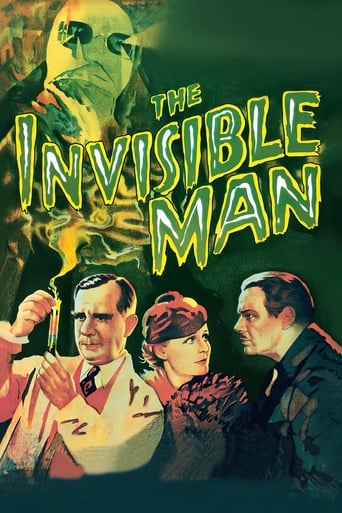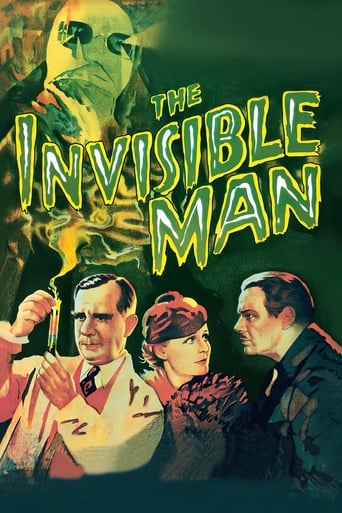 The Invisible Man
1933
1 hr 11 min
Horror , Science Fiction
Working in Dr. Cranley's laboratory, scientist Jack Griffin was always given the latitude to conduct some of his own experiments. His sudden departure, however, has Cranley's daughter Flora worried about him. Griffin has taken a room at the nearby Lion's Head Inn, hoping to reverse an experiment he conducted on himself that made him invisible. But the experimental drug has also warped his mind, making him aggressive and dangerous. He's prepared to do whatever it takes to restore his appearance.
Cast:

Claude Rains , Gloria Stuart , William Harrigan , Henry Travers , Una O'Connor , Forrester Harvey , Holmes Herbert


Reviews
I like the storyline of this show,it attract me so much
... more
Plenty to Like, Plenty to Dislike
... more
This is one of the few movies I've ever seen where the whole audience broke into spontaneous, loud applause a third of the way in.
... more
The story, direction, characters, and writing/dialogue is akin to taking a tranquilizer shot to the neck, but everything else was so well done.
... more
I thought after watching it, it was just hilarious! Claude Rains as the invisible man was absolutely superb and I always loved how he says "you fool" in his posh English accent. He was quite very witty in a way too but its like he doesn't care what anyone else thinks of him as the invisible man. I liked how he tends to scare anyone around him by showing that he has no face, hands or his body. It was even funnier only seeing him with no head and we only can just see his PJ's when he went to his doctors friend house to hide from the police.I really like how this old film was full of laughs and of course, some jumpscares too! It was so sad at the end though that Griffin was shot and his true love Flora was by his side. It did make me upset like the character was just amazing lol! I give this brilliant horror movie a 9/10!
... more
I was greatly disappointed to have missed finally seeing The Invisible Man when I made my way through classic horror titles this October. Being stuck inside with an ice storm raging in the middle of December, finally able to watch all the movies I hadn't yet worked through on my DVR, I was instantly convinced that The Invisible Man is more of a winter than an autumnal movie. The Invisible Man takes place during a snow storm as a scientist who has discovered the secret to invisibility by himself becoming invisible. Starring Claude Rains and directed by James Whale in 1933, The Invisible Man remains a classic over 80 years after its release.Dr. Jack Griffin (Claude Rains) has finally been given the freedom to conduct his own experiments without oversight. When he disappears from his laboratory without notice, his boss's daughter and love interest become concerned. Griffin has taken a room at a nearby Inn during a snowstorm. Griffin is hoping time will reverse the effects of his most recent experiment rendering him invisible. The longer the waits, the more mad he becomes quickly realizing that the same drug that resulted in his invisibility is also changing his brain chemistry. As he becomes more aggressive and increasingly dangerous, it becomes clear that the only way to save those around him may be to end his own life.Claude Rains is wonderful. I have never thought of this movie without synonymously thinking of Claude Rains. It is mind boggling, to me, to think of Boris Karloff, who was originally cast, in the role. The special effects for this film were incredible considering The Invisible Man was released in 1933. Enhanced with witty dialogue, a strong performance by Rains, and captivating effects, it is no wonder the Invisible Man is considered the classic that it is.
... more
For all the technological advances in moving making well into the 21st century, few films can match the special effects achievement of Universal Studios in this 1933 fantasy, sci-fi movie. "The Invisible Man" is a classic in the genre. The scenes of an invisible man, and partly invisible man are astounding. The cast for the film is excellent, and the story of finding Claud Rains to play Dr. Jack Griffin (aka, the invisible man), is fascinating. Rains had been an accomplished stage actor for some time in England. He had come to America for a Broadway play and while here, he made a screen test for movies. Apparently it was terrible, but when director James Whale heard his voice, he said Rains was the person to play the lead. Considering that the star would be so seldom seen in the film, Whale wanted a distinctive voice that would set the invisible man apart. Rains was perfect for the part and got the role.He is superb here, and this led to a highly successful Hollywood career in which he starred mostly as the second male lead. But his roles were substantial. He may be best known by fans as the French captain of police, Louis Renault, in "Casablanca." Rains had some great roles, playing with leading men and women of Hollywood over four decades. The rest of the cast all give very good performances. An interesting aspect of this film is that it shows the British police as being astute and clever in their pursuit of the man. This is a memorable film and good early example of outstanding cinematography and special effects. It makes a good addition to any serious film library.
... more
"An invisible man can rule the world - nobody will see come - nobody will see him go, he can hear evvvery secret! HE CAN ROB! AND WRECK! AND KILL!" "Your father! Clever! HAHA! You think he can help me? He's got the brain of a tape-worm - a maggot, beside mine.""Power to make multitude's run squealing in terror at the touch of my little invisible finger!" Now this is a fun movie! Yet another classic offering from the unbeatable combination of Horror-Maestro James Whale and the Universal Studio of the 1930's. I must have seen this one 50 or 60 times over the years and I for one, NEVER grow tired of watching this magnificent mega-classic. To me The Invisible Man is one of those rare films that possesses infinite replay value.The Invisible Man is the film debut of the renowned British stage/screen actor Claude Rains and the performance he gives (to my way of thinking) is the all-time best and most exciting film debut of any actor, ever. The man was simply a natural in front of the camera. It's his fantastically maniacal voice (especially during the "invisble scenes"), in combination with the amazingly well-done FX, that carry this remarkably cutting-edge film. For 1933 standards The Invisible Man must have represented the ultimate in high-tech film-making; but not without an immense effort from FX-Maestro John P. Fulton and a small army of "retoucher's". That's a story in and of itself and I'll get to that later.The movie, like most of Whales output, moves along at a brisk clip (remember this film is barely 70 minutes long) and is very tightly paced, there's not one wasted frame and every scene has a definite purpose and one could say that there's not an ounce of fat on The Invisible Man. Typical of a James Whales horror film, you'll hear an abundance of some of the most singularly colorful and sparkling dialog (mostly from the mouth of the Invisible Man himself) ever written for film, combined with the dementedly demonic, white-hot delivery that Claude Rains brought to the role. R.C. Sheriff's script is brilliantly written and in scene after scene proves invaluable to the films overall effect. The one-of-a-kind voice of Cluade Rains is a combination of, 1. a heavy Cockney accent, 2. a set of vocal chords which had been affected in WW1 via: mustard-gas attack and 3. a voice tempered and strengthened by many years of stage performing. This ultimately shaped what was one of cinema's most distinctive and versatile voices. Whale cast Rains largely on the strength of his voice and also due to his wicked laugh. Claude Rains simply had a loud and dementedly devilish laugh, it was the type of laugh that could upstage the unwholesome chortlings of a dying rabid hyena and it's truly an electrifying thing to hear. Claude's just plain bat-sh*t crazy!I won't discuss the plot, but rest assured the Invisible Man has a lot of deadly and demonic fun (these are the films most ticklish scenes) and he also get's revenge on a certain traitorous doctor ("I hope your car's insured Kemp. I'm afraid there's going to be a nah-sty accident in a moment, a very nah-sty accident."), before he's finally dealt with by the law. The Invisible Man is a fast-paced and boundlessly entertaining, hi-tech horror and a true classic of the era and genre and with the exception of BRIDE OF FRANKENSTEIN, The Invisible Man is James Whales best horror film. Second only to The Bride.A Word On The Special Effects: In layman's terms, the invisibility effects were achieved with a combination of an actor who was clad from head-to-toe in black velvet (probably a skin-tight catsuit) and was filmed in front of large sheet of black velvet, essentially a wall of velvet. The footage was then super-imposed onto footage that showed the setting and the rest of the cast. The results, as you'll see, are confoundingly brilliant, though not perfect, at least not from the start; some residual visual distortions remained, which marred the overall effect. To perform the finishing touches were a group of people armed with paint brushes, these were the "the retoucher's" and their job was to meticulously hand-paint each individual film-cell, which removed the last remaining traces of the invisible man and only then was he truly invisible.For those not yet familiar with the Invisible Man, I could not recommend more highly that you seek this classic out. Particularly the Blu-ray, because Universal (as part of their centennial anniversary) put together an astonishingly beautiful Hi-Def transfer and it's -very easily- the best The Invisible Man has ever looked or sound....................buy a copy today, it rules.
... more