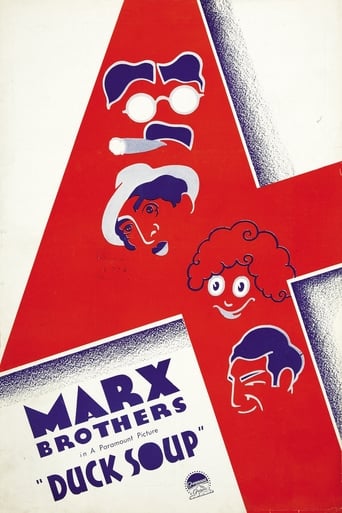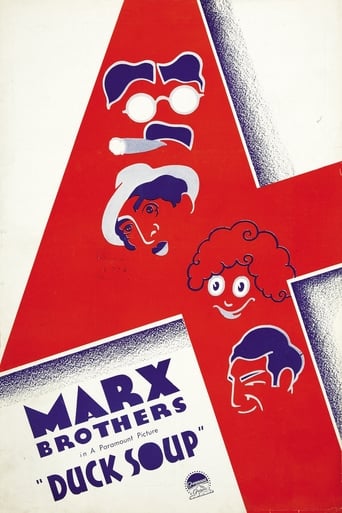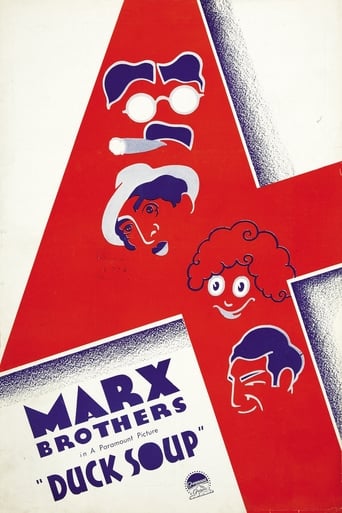 Duck Soup
1933
1 hr 9 min
Comedy , War
Rufus T. Firefly is named president/dictator of bankrupt Freedonia and declares war on neighboring Sylvania over the love of wealthy Mrs. Teasdale.
Cast:

Groucho Marx , Harpo Marx , Chico Marx , Zeppo Marx , Margaret Dumont , Raquel Torres , Louis Calhern


Reviews
The Worst Film Ever
... more
best movie i've ever seen.
... more
Great example of an old-fashioned, pure-at-heart escapist event movie that doesn't pretend to be anything that it's not and has boat loads of fun being its own ludicrous self.
... more
It's fine. It's literally the definition of a fine movie. You've seen it before, you know every beat and outcome before the characters even do. Only question is how much escapism you're looking for.
... more
Duck Soup is supposed to be the Marx Brothers' funniest movie. It is supposed to be #60 on AFI's top 100. Well, it is not worthy of any of those titles. This movie was not funny at all; it was dumb. The brothers clearly showed that they do not know how to act in this movie; they were terrible. This 1h 8min movie felt like 3h, and I have concluded that the Marx Brothers are no better than a 1/10.
... more
The nation of Freedonia is in dire financial situation and wealthy widow Mrs. Teasdale is willing to help if only Rufus T. Firefly (Groucho Marx) is appointed the new leader. Sylvanian Ambassador Trentino and Raquel Torres are trying to incite a revolt. Sylania sends Chicolini (Chico Marx) and Pinky (Harpo Marx) as spies. Firefly appoints Chicolini as Secretary of War. As the crazy situation spins out of control, war is declared between Freedonia and Sylvania.Groucho is relentless in his fast rolling jokes. It comes so fast that it's impossible to laugh at it all. Harpo is pure slapstick genius. This is pure comedic chaos. There is the great mirror scene between Groucho and Chico. It's not simply mirroring. It's that they go beyond and start changing places. It is simply a classic and so is this movie.
... more
The Marx Brothers were among the best comedy entertainers of their time and beyond. They were gifted musicians as well as comedians. Their comedy included dialog with one-liners and zingers, zany antics, slapstick and acrobatics. Some of their movies are among the funniest and best comedies of all time. Many sources regard "Duck Soup" as their best film. I don't, and here's why. This film was still early in their movie careers and strikes me as raw and unpolished. It has many lines and routines that seem right out of vaudeville. Indeed, the long scenes with the peanut vending come from a vaudeville act that the brothers recreate in a couple of movies. There's nothing wrong with the variety performances of vaudeville, except that today they are old hat and just not as funny. And many of the one- liners are so old that they too lack humor today. The long scenes of costumed players singing the Freedonia anthem lose their humor after the first one or two. "Duck Soup" seems to me to be a succession of skits held together by the thinnest of plots. Plots aren't necessary for great comedy, but then the comedy must be able to stand on its own. I just don't think "Duck Soup" has the comedy that does that. One last thing that bothers me about this film is the insult in some of Groucho's lines. It goes overboard here. As an aside, this is one of the few of the brothers' big films in which they don't perform musically. Their musical talents were surely of professional level and when they played in their other films, they added a little something to the story – and even to the mayhem at times. I rate "A Night at the Opera" as the best Marx Brothers film, and one of the greatest comedies of all time. Close behind it is "A Day at the Races." Those films differ considerably from "Duck Soup" in that they have interesting serious plots that make for much more laughter with the zany scenes. And, they have much better developed dialog with witty lines and wonderful zingers. In the place of silliness (slaps in the face, verbal insults, etc.) that pepper "Duck Soup," those films spend a little time with plot involving other actors. That makes the comedy all the more hilarious in the scenes that follow. "Duck Soup" may be the silliest movie the Marx Brothers made. But it's not the funniest by a long shot. Nor is it their best, in my view.
... more
I'm going to get this out of the way right now. This movie is kind of over hyped, but that in no way shape or form did I dislike it. Now that we've got that out of the way, lets talk about the movie. It's a wickedly funny satire that's full of quotable lines. The main comedic drive comes from 2 people: Groucho Marx's Rufus T. Firefly and Harpo Marx's Pinky. Groucho Marx delivers amazingly written lines that never fail to make one laugh. No other actor could have made it work. Harpo Marx plays an idiotic spy who doesn't talk and he brings the slapstick comedy to the mix and it works beautifully. I miss these quick paced satires with biting dialogue. Off the top of my head, the most recent one I can think of is Airplane, which was all the way back in 1980. Hollywood! Bring these back! They work wonders! People of the world! Watch this movie on Netflix before they get rid of it on January 1st! Hurry, hurry, hurry!
... more