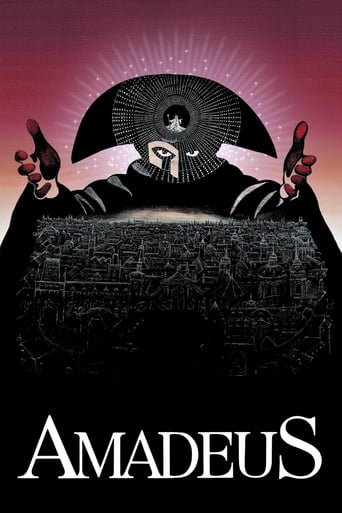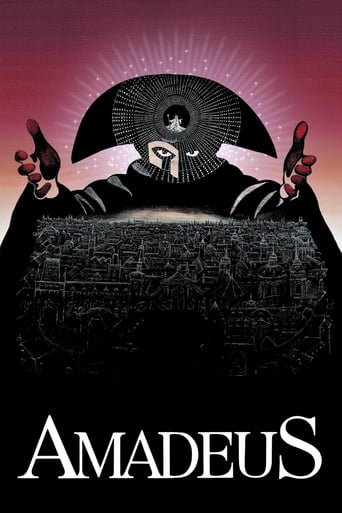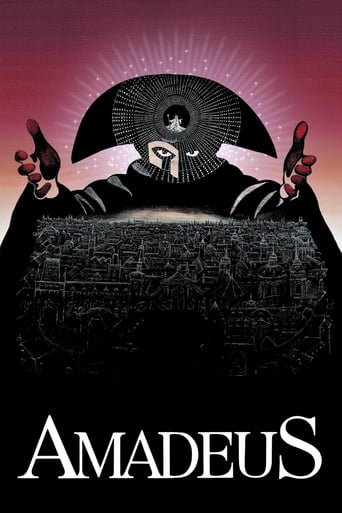 Amadeus
1984
2 hr 40 min
Drama , History , Music
Wolfgang Amadeus Mozart is a remarkably talented young Viennese composer who unwittingly finds a fierce rival in the disciplined and determined Antonio Salieri. Resenting Mozart for both his hedonistic lifestyle and his undeniable talent, the highly religious Salieri is gradually consumed by his jealousy and becomes obsessed with Mozart's downfall, leading to a devious scheme that has dire consequences for both men.
Cast:

F. Murray Abraham , Tom Hulce , Elizabeth Berridge , Roy Dotrice , Simon Callow , Christine Ebersole , Jeffrey Jones


Reviews
The Worst Film Ever
... more
i must have seen a different film!!
... more
As Good As It Gets
... more
An old-fashioned movie made with new-fashioned finesse.
... more
All actors in this movie are top notch and deserve the oscars also the cinematic spectacle of hearing beautiful music put to life on screen even though i recommend to every one I only think it can drag on alittle bit
... more
Ohhh yes, the 180 minute behemoth that is Ama-flipping-deus! This is exactly what I wanted and more. A loud orchestral musical score, lavish period costume drama and outstanding performances. I got it all. Clearly not enough reviewers talk about this 1984 Best Picture winner. Not sure why, it's masterfully crafted. An illustrious rivalry between Court composer Salieri and young newcomer Mozart that's so tiny in scope, but epic in scale! Where do I even begin with this beauty!? Both a visual and aural treat that celebrates the work of Wolfgang Amadeus Mozart. The sublime music is beautiful interwoven into the narrative which makes the biopic absolutely spellbinding. Salieri is just as fascinating and important as Mozart. Played phenomenally by F. Murray Abraham, Salieri is maddened with envy after discovering Mozart and his divine musical gifts. He literally utilises any means necessary to see that Mozart fails as a composer, but beneath this cold exterior is an individual who yearns for greatness. The fear of his work being forgotten and diminished by a far superior talent. It's a bittersweet tale, one that hauntingly resonates with me. Tom Hulce was impeccable as Mozart, the laugh alone was stupendously charismatic. Forman's direction was perfect, embedding luscious operas into a savage rivalry. Using classical music to push the story forward. It was just sublime, it really was. The period costumes were accurate and authentic. Vienna's rich and lavish lifestyle was conveyed eloquently. The script was sharp and injected plenty of charisma into these characters with many subtle humorous moments. The first act does take a while to get going, but once the ignition is on Amadeus is the gift that keeps on giving. So so so close to perfection. May need to watch the theatrical cut to see if the first act is tighter.
... more
Nobody can tell that this is a 1984 movie. A friend of mine thought it was a 2016 movie. Brilliant. Plus, 2 actors nominated to best actor at Oscar, I believe that is unique an also historic. A movie with drama, comedy, love, music and history. Everybody should definitely watch.Amadeus is a Masterpiece.
... more
I saw this movie last Saturday and was pretty excited because I had read all the raving reviews and heard what a masterpiece it was. Then, when I actually watched it, I was like...what's the big deal about this movie?The bad things:It was WAY too long. There's nothing wrong with long movies, but only if the story is engaging and interesting. Amadeus was just slow and boring. In my opinion, there was no reason for this film to be 3 hours long. No matter how impressive and extravagant costumes and backdrops are, it does not make a movie exciting. This is a problem I've seen in quite a few big-budget films. About two hours into the film, I got very, very sleepy and I could barely keep my eyes open (okay, this might have been because I was watching the movie at 11pm). The good things:F. Murray Abraham and Tom Hulce both did a good job. I didn't see a single flaw in their performances. The brief scenes of the insane asylum were effectively disturbing. The costumes, scenery, style, etc, all seemed to be intact. Giving Amadeus that quirky laugh was...a fun idea, I must admit.So the bottom line is, I won't watch this movie again but I'm glad I saw it once. And 'One Flew Over the Cuckoo's Nest' was a much better film by Milos Forman.
... more