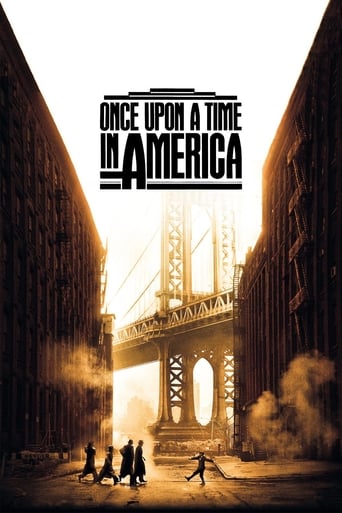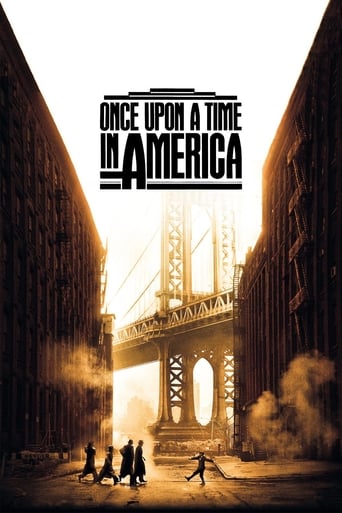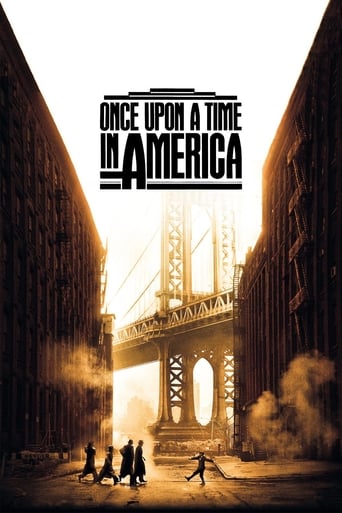 Once Upon a Time in America
1984
3 hr 49 min
Drama , Crime
A former Prohibition-era Jewish gangster returns to the Lower East Side of Manhattan over thirty years later, where he once again must confront the ghosts and regrets of his old life.
Cast:

Robert De Niro , James Woods , Elizabeth McGovern , Joe Pesci , Tuesday Weld , Burt Young , Treat Williams


Reviews
Such a frustrating disappointment
... more
Simple and well acted, it has tension enough to knot the stomach.
... more
Blistering performances.
... more
Through painfully honest and emotional moments, the movie becomes irresistibly relatable
... more
It's a great movie, no doubt about that. Some migth say to many nude scenes, I agree, in some places it was wrong, like when with the kids scene. De Niro is also great in that movie. Plot is amazing, but still it is a adaptation. NO ORIGIN. That takes some beaty of it. Also TOO LONG
... more
I watched the whole movie to see if it is as bad as it starts. After 50 minutes still sucked. Then it sucked more after 2 hours. Then it came back and sucked again till the end. No. This is not art. This is a waste of time. This is a " i cant write a Godfather so i will do something like it hoping that my Hollywood friends and the Jews will give me good reviews". Even the music is trying to be like the Godfather's. 8.4 ???? Seriously?If it wasnt for De Niro ...
... more
Look I sat through four hours of this just because I started it and frankly did not have anything else to watch, but this film surely proves that the reviewers on this website are dolts.One can appreciate the corrupt pig, the sexy girl and the doggy sex, but beyond that there is so little to watch. I don't know if a subplot of Jews was added so the director can get funding in Hollywood, but the characters were so boring and the film so slow moving it really made me wonder.A mafioso grows up and out of New York and then reappears having lived n the area in hiding.
... more
This movie is huge. I've seen the massive 229 min cut. And surprisingly it did not feel that boring! The pace was slow but for this story it was absolutely necessary. Otherwise the story wouldn't fell the way it felt. I was tired but also satisfied when this ended.The acting was fitting. The child actors did an amazing job. In some cases I think even better than their adult counterparts.One might get confused at the way this movie is shown. The constant switching between present time and the past might seem weird but its a massive buildup for the last segment. Once a person sees it all, he/she would understand why it was shown that way and would for sure appreciate the making.The long shots and the enthralling musical score that shows and makes sure channels all the emotions into the viewers was expected from Sergio Leone. I always enjoyed his work and this didn't underperformed at all. It's sad that this was his last movie.This was an epic tale and one of the best crime dramas I've seen so far. Too bad that it was a commercial mess due to a trimmed version being released in theater. I would recommend the whole 229 min version to anyone anytime.
... more