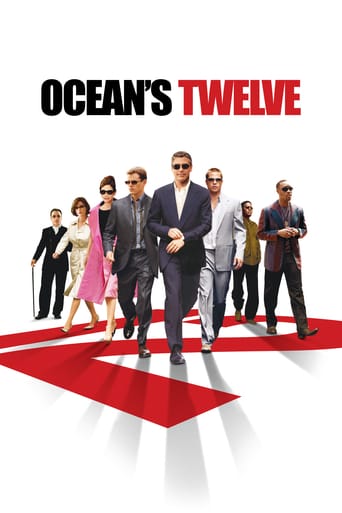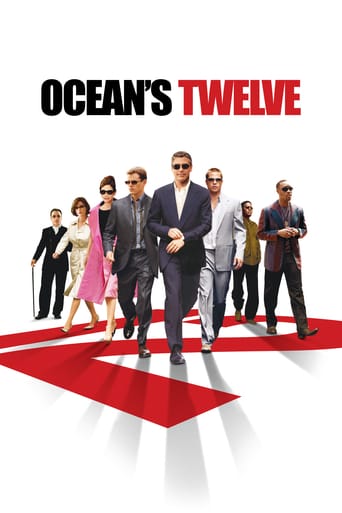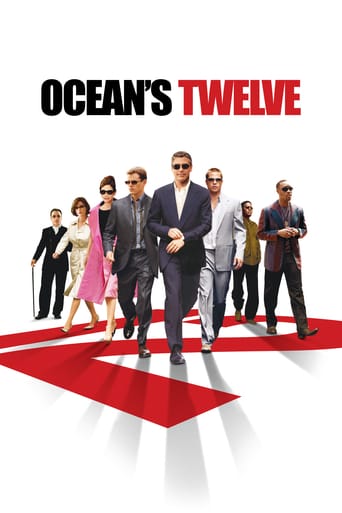 Ocean's Twelve
2004
2 hr 5 min
Thriller , Crime
Danny Ocean reunites with his old flame and the rest of his merry band of thieves in carrying out three huge heists in Rome, Paris and Amsterdam – but a Europol agent is hot on their heels.
Cast:

George Clooney , Brad Pitt , Matt Damon , Catherine Zeta-Jones , Julia Roberts , Andy García , Casey Affleck


Similar titles
Heat
Obsessive master thief, Neil McCauley leads a top-notch crew on various daring heists throughout Los Angeles while determined detective, Vincent Hanna pursues him without rest. Each man recognizes and respects the ability and the dedication of the other even though they are aware their cat-and-mouse game may end in violence.
Heat
1995
Den of Thieves
A gritty crime saga which follows the lives of an elite unit of the LA County Sheriff's Dept. and the state's most successful bank robbery crew as the outlaws plan a seemingly impossible heist on the Federal Reserve Bank.
Den of Thieves
2018
Angels & Demons
Harvard symbologist Robert Langdon is recruited by the Vatican to investigate the apparent return of the Illuminati - a secret, underground organization - after four cardinals are kidnapped on the night of the papal conclave.
Angels & Demons
2009
Hard Night Falling
Goro, a criminal mastermind, plot to steal a massive cache of gold from the Rossini family. Unbeknownst to Goro and his soldiers of fortune, one of Rossini's guest is a highly trained foreign operative who fights to not only save the hostages and the gold, but his imperiled family.
Hard Night Falling
2019
Son of a Gun
Locked up for a minor crime, 19 year old JR quickly learns the harsh realities of prison life. Protection, if you can get it, is paramount. JR soon finds himself under the watchful eye of Australia's most notorious criminal, Brendan Lynch, but protection comes at a price.
Son of a Gun
2014
The Italian Job
Charlie Croker pulled off the crime of a lifetime. The one thing that he didn't plan on was being double-crossed. Along with a drop-dead gorgeous safecracker, Croker and his team take off to re-steal the loot and end up in a pulse-pounding, pedal-to-the-metal chase that careens up, down, above and below the streets of Los Angeles.
The Italian Job
2003
Baby Driver
After being coerced into working for a crime boss, a young getaway driver finds himself taking part in a heist doomed to fail.
Baby Driver
2017
Ocean's Eleven
Less than 24 hours into his parole, charismatic thief Danny Ocean is already rolling out his next plan: In one night, Danny's hand-picked crew of specialists will attempt to steal more than $150 million from three Las Vegas casinos. But to score the cash, Danny risks his chances of reconciling with ex-wife, Tess.
Ocean's Eleven
2001
Force of Nature
A gang of thieves plan a heist during a hurricane and encounter trouble when a disgraced cop tries to force everyone in the building to evacuate.
Force of Nature
2020
The Great Beauty
Jep Gambardella has seduced his way through the lavish nightlife of Rome for decades, but after his 65th birthday and a shock from the past, Jep looks past the nightclubs and parties to find a timeless landscape of absurd, exquisite beauty.
The Great Beauty
2013
Reviews
Please don't spend money on this.
... more
After playing with our expectations, this turns out to be a very different sort of film.
... more
The thing I enjoyed most about the film is the fact that it doesn't shy away from being a super-sized-cliche;
... more
what a terribly boring film. I'm sorry but this is absolutely not deserving of best picture and will be forgotten quickly. Entertaining and engaging cinema? No. Nothing performances with flat faces and mistaking silence for subtlety.
... more
I'am wrong.Just when i thought this could'nt be more worse turn out its worse then the predecessor ,omg im just gonna watch thirteen just a sake of laugh about it not the pleasure one ,but the sarcast one
... more
I'd say Ocean's Twelve is a decent film in my opinion. But here's one major issue I noticed.I feel like the reason why this movie didn't do as well as Ocean's Eleven was because the story focused so much on the romance between Rusty and Isabel. The audience were expecting to see more of the crew to carry out a clever heist and steal the most valuable item locked inside a fancy location. Sadly, it was a lot less than what we wanted.
... more
Ocean's Twelve is the weakest film in the Oceans trilogy. However, despite the move to Europe, this film has most of the ingredients the first one had, making it still an entertaining viewing. It just didn't feel right when watching it, but does become a key part of the continuous storyline that plays throughout the three films; making it a must watch for fans of the first. I have to mention the Julia Roberts/Julia Roberts scene was just bad. It probably seemed like a good idea at the time, but the fourth wall break was unnecessary for a quick laugh that really just throws the film momentarily off par.
... more
If you're looking for a light-hearted caper movie, then OCEAN'S TWELVE is nothing more – and nothing less – than that. As with the previous instalment in the series, director Steven Soderbergh goes out of the way to make this feel like a '60s movie, with a breezy tone, brisk dialogue, and sweep-along editing that carries the viewer along for some definitely light entertainment. But hey, we don't always want to watch heavy, gruelling drama, so I don't have a problem with these intentions at all.In retrospect, it was pretty easy to get this film right. It had the chance to throw off the 'remake' tag, so could follow pretty much whatever plot it wanted. All the cast came back from the original, so the camaraderie was already there from the beginning. Soderbergh's idea is to up the stakes, up the money and make things even more twisty-turny than before, and he ably succeeds at that. This film is so chock-full of crosses, double crosses, triple crosses, and surprises that half the time is spent just keeping up with what's going on. Luckily, the cast are more than watchable, although with a huge ensemble like this, it's fair to say nobody is required to 'act' very much. Matt Damon probably gives the most earnest turn, but Clooney and Pitt are just here to trade on their charm and status, and supports like Garcia and Gould barely register. Catherine Zeta Jones plays a large part and achieves some old 'movie star' charm although I never warmed to her ice-cold character. One surprise is a nice turn from Vincent Cassel, an actor I always enjoy seeing on film, and no exception here.Of course, the film isn't perfect. It takes a rather long time to get to the 'meat' of the plot and the opening introductions are long-winded and unnecessary, also rather repetitive. The film can also be accused of being self-indulgent, especially in the part where Julia Roberts's character ends up pretending to be…Julia Roberts. Still, I could forgive this part thanks to the fun Bruce Willis cameo, and it all comes together for the "pull the rug out from under you" ending.
... more