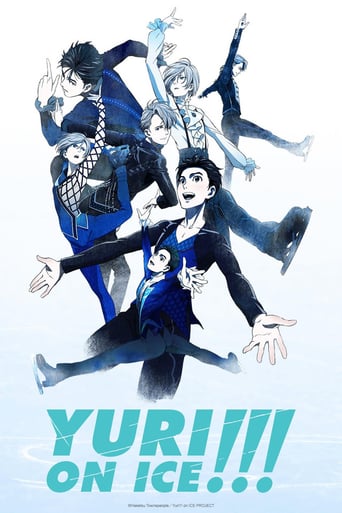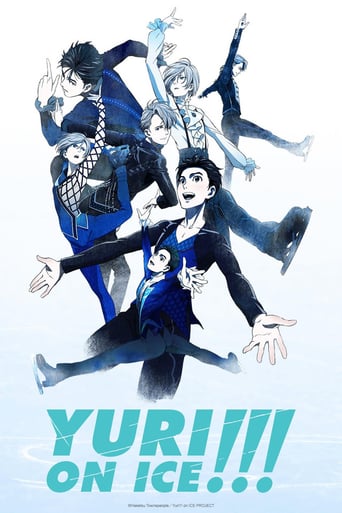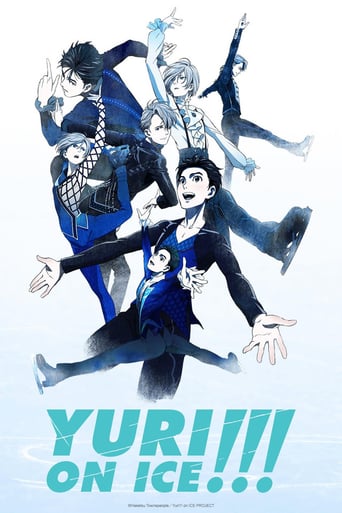 Yuri!!! on Ice
2016
Animation , Drama , Comedy
Yūri Katsuki carried all of Japan's hopes on his shoulders to win at the Gran Prix Finale ice skating competition, but suffered a crushing defeat. He returns home to Kyushu and half feels like he wants to retire, and half feels like he wants to continue ice skating. Suddenly the five-time consecutive world championship ice skater Victor Nikiforov appears before him with Yuri Plisetsky, a young Russian figure skater who is already defeating his seniors. Victor and both Yuris take up the challenge on an unprecedented Gran Prix series.
Cast:

Toshiyuki Toyonaga , Koki Uchiyama , Junichi Suwabe
Watch Full Seasons and Episodes
Season 1 : 2016
|
12 Episode
|
MORE


Similar titles
Kono Oto Tomare!: Sounds of Life
Since the graduation of the senior members of the club, Takezou ends up being the sole member of the "Koto" (traditional Japanese string instrument) club. Now that the new school year has begun, Takezou will have to seek out new members into the club, or the club will become terminated. Out of nowhere, a new member barges into the near-abandoned club room, demanding to join the club. How will Takezou be able to keep his club alive and deal with this rascal of a new member?
Kono Oto Tomare!: Sounds of Life
2019
Chihayafuru
6th-year grade-schooler Ayase Chihaya's dream is for her sister to be Japan's top model. However, transfer student Wataya Arata admonishes her that a dream must be about one's own self. Thus, she takes up karuta, a Japanese card game, competitively. Together with Arata and Mashima Taichi, Chihaya's childhood friend, they have great fun playing each other, but separate after graduation. 4 years later, Chihaya returns to town. Although Arata no longer plays the game, she believes that they will eventually reunite as long as she continues karuta. Together with Taichi, she establishes the Mizusawa High-school Karuta Club.
Chihayafuru
2011
Armed Girl's Machiavellism
The Private Aichi Symbiosis Academy was originally a high school for high-class girls. When it became co-ed, the girls, out of fear, asked to be permitted to bring weapons to school. When that was enforced, a five-member vigilante corps-like organization called the "Supreme Five Swords" was also formed. After many generations, the five swords eventually became a group which corrected problematic students, and the academy started proactively accepting such students in order to correct them. Nomura Fudou was sent to this school after being part of a huge brawl. What will he do when the only options he has after enrolling are being expelled from that school or being corrected the way the rest of the male students there were...by being forced to dress and act like a girl!
Armed Girl's Machiavellism
2017
March Comes in Like a Lion
Rei is a 17-year old professional shōgi player, who lives by himself, not having a real family, and has scarcely any friends. Among his acquaintances is a family, which consists of a young woman, Akari, and two young girls, Hinata and Momo, and who also keep a numerous number of cats.
March Comes in Like a Lion
2016
BEASTARS
In a world where beasts of all kinds coexist, a gentle wolf awakens to his own predatory urges as his school deals with a murder within its midst.
BEASTARS
2019
Haikyu!!
Shōyō Hinata was inspired to play volleyball after seeing Kurasuno High School's "little giant" competing in the national tournament on TV. He trains relentlessly to make up for his lack of height, but suffers a crushing defeat in his first and last tournament of middle school at the hands of his rival Tobio Kageyama. Vowing revenge against Kageyama and hoping to follow in the little giant's footsteps, Hinata joins Kurasuno High School's volleyball team. To his initial dismay, Kageyama is also on Kurasuno's team. The former rivals soon overcome their differences though and combine their strengths to form a legendary combo using Hinata's mobility and Kageyama's precision ball-handling. Together with their team, they compete in prefecture tournaments and promise to meet Kurasuno's fated rival school at nationals.
Haikyu!!
2014
Rent-a-Girlfriend
In today's Japan, "rental" services can deliver an afternoon with a "friend," a "parent," even a fake girlfriend! Kinoshita Kazuya is a 20-year-old failure of a college student. He managed to kiss his girlfriend once, but was dumped after a month. Completely spiteful, Kazuya gets just desperate enough to give it a try. But he quickly discovers how complicated it can be to "rent" an emotional connection… and his new "girlfriend," Mizuhara Chizuru, who's trying to keep her side hustle secret, will panic when she finds out her real life and Kazuya's are intertwined in surprising ways! A reckless rom-com filled with love and excitement is about to begin!
Rent-a-Girlfriend
2020
Dance in the Vampire Bund
Mina Tepeş, the Princess of the ancient covenant and ruler of all vampires, wants her race to stop hiding from the humans. Using her vast wealth, she has paid off Japan's entire national debt and by doing so, gained the right to create a district off Japan's coast that is to become the future haven to vampires worldwide. But when she finally attempts to make public the existence of vampires to the world some politicians, terrorists and rival factions are plotting to assassinate Mina before she has a chance to get Japan's and international recognition for the Vampire Bund. Now she must rely on her strength, cruelty and those closest to her, while trying to make a normal life.
Dance in the Vampire Bund
2010
Inari Kon Kon
Fushimi Inari is a shy, not-so-bright middle school girl living in Kyoto's Fushimi ward. She has a crush on her classmate Tanbabashi, but cannot express her feelings. One day, as thanks for helping a fox pup, the deity Uka no Mitama no Kami grants her the ability to change her form.
Inari Kon Kon
2014
Hungry Heart: Wild Striker
Kyosuke Kano has lived under the shadow of his successful brother Seisuke all his life who is a professional soccer player. Tired of being compared and downgraded at, he abandoned playing soccer until a boy from his new highschool discovered him and asked him to join their team. Kyosuke joins it and befriends two other first year players named Rodrigo and Sakai with the dream of becoming professional soccer players themselves.
Hungry Heart: Wild Striker
2002