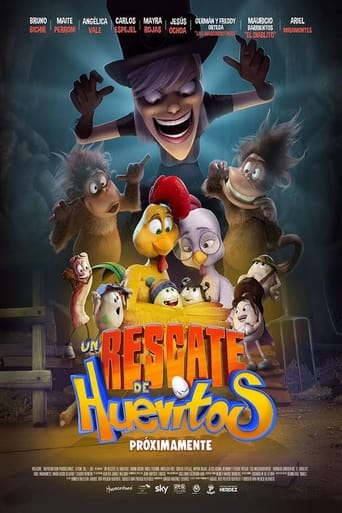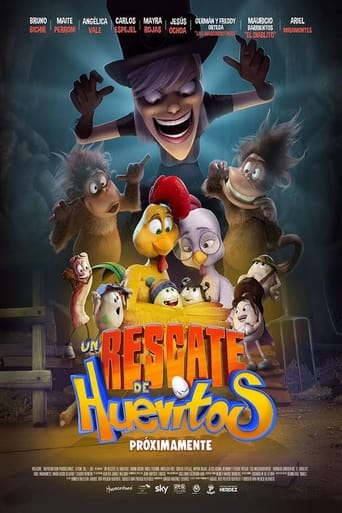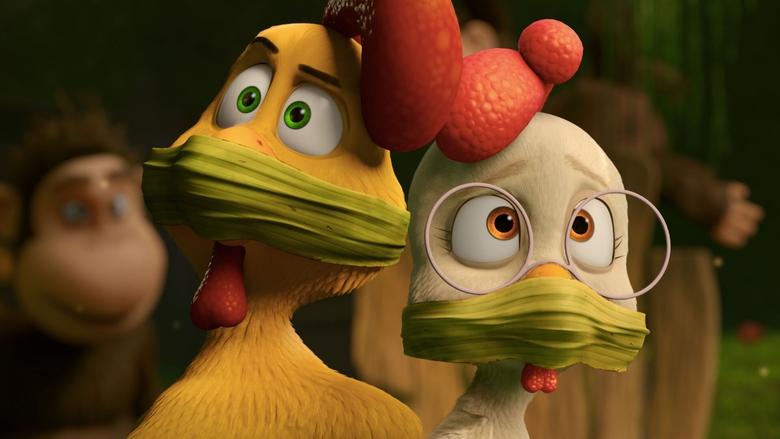 Trailer
Synopsis
Cast
Keywords
A rooster and his fowl partner embark on a dangerous trip to the Congo to recover their stolen eggs from a group of Russian goons.


Similar titles
Blended
After a bad blind date, a man and woman find themselves stuck together at a resort for families, where their attractions grows as their respective kids benefit from the burgeoning relationship.
Blended
2014
Planes: Fire & Rescue
When world-famous air racer Dusty learns that his engine is damaged and he may never race again, he must shift gears and is launched into the world of aerial firefighting. Dusty joins forces with veteran fire and rescue helicopter Blade Ranger and his team, a bunch of all-terrain vehicles known as The Smokejumpers. Together, the fearless team battles a massive wildfire, and Dusty learns what it takes to become a true hero.
Planes: Fire & Rescue
2014
The Smurfs: The Legend of Smurfy Hollow
When Brainy Smurf is favored to win the annual Smurfberry Hunt for the ninth year in a row, Gutsy Smurf sets out to discover how Brainy wins every year. Gutsy's investigation takes him into spooky Smurfy Hollow–and right into Gargamel's trap! Can Brainy and Gutsy, with the help of Smurfette, put aside their rivalry before Gargamel captures them–or worse, they come face-to-face with the legendary ghost, the Headless Horseman?
The Smurfs: The Legend of Smurfy Hollow
2013
The Cobbler
Max Simkin repairs shoes in the same New York shop that has been in his family for generations. Disenchanted with the grind of daily life, Max stumbles upon a magical heirloom that allows him to step into the lives of his customers and see the world in a new way. Sometimes walking in another man's shoes is the only way one can discover who they really are.
The Cobbler
2014
Alexander and the Terrible, Horrible, No Good, Very Bad Day
Alexander's day begins with gum stuck in his hair, followed by more calamities. Though he finds little sympathy from his family and begins to wonder if bad things only happen to him, his mom, dad, brother, and sister all find themselves living through their own terrible, horrible, no good, very bad day.
Alexander and the Terrible, Horrible, No Good, Very Bad Day
2014
Justice League: War
The world is under attack by an alien armada led by the powerful Apokoliptian, Darkseid. A group of superheroes consisting of Superman, Batman, Wonder Woman, The Flash, Green Lantern, Cyborg, and Shazam must set aside their differences and gather together to defend Earth.
Justice League: War
2014
Pulling Strings
Rachel is an intelligent, modern-day woman constantly on the move. Primarily focused on her career as a diplomatic consul for the U.S. embassy, she's literally lived her life on the move, globe-trotting from city to city. Currently working in Mexico City and set to leave for London, Rachel's world turns upside down on the eve of her own goodbye party when she gets drunk and passes out on the street. Saved by Alejandro, a handsome Mariachi singer and single father, Rachel wakes up in his apartment with no recollection of how she got there. Nor does she remember that she rejected his visa the day before, which he desperately needs for his daughter. Romance unexpectedly blossoms between the two, but either sparks or fists will fly after she finds out his secret.
Pulling Strings
2013
Asterix: The Mansions of the Gods
In order to wipe out the Gaulish village by any means necessary, Caesar plans to absorb the villagers into Roman culture by having an estate built next to the village to start a new Roman colony.
Asterix: The Mansions of the Gods
2014
Batman: Assault on Arkham
Batman works desperately to find a bomb planted by the Joker while Amanda Waller sends her newly-formed Suicide Squad to break into Arkham Asylum and recover vital information stolen by the Riddler.
Batman: Assault on Arkham
2014
One Piece Film: Z
Zephyr, now known as Z, rides the seas with only one goal: Destroy all pirates and their dreams at becoming King of Pirates. When Luffy and his crew encounter him at sea, not only are they utterly defeated by the man with an arm made of Seastone, Nami, Robin, and Chopper are turned 10 years younger due to Z's minion Ain. Luffy is so determined to win against him that he does not even notice Z's master plan that could sacrifice thousands of lives.
One Piece Film: Z
2012
Reviews
Absolutely Fantastic
... more
When a movie has you begging for it to end not even half way through it's pure crap. We've all seen this movie and this characters millions of times, nothing new in it. Don't waste your time.
... more
Blistering performances.
... more