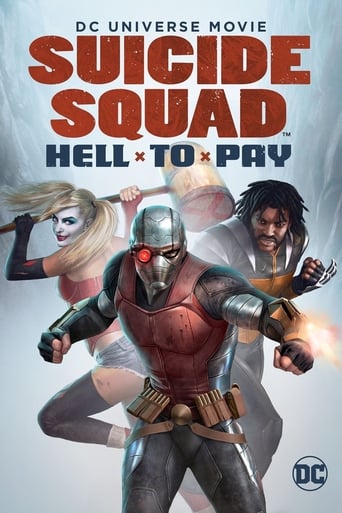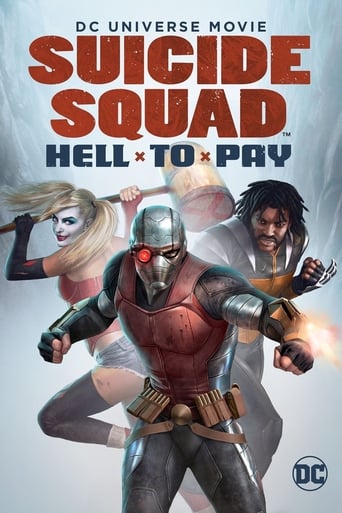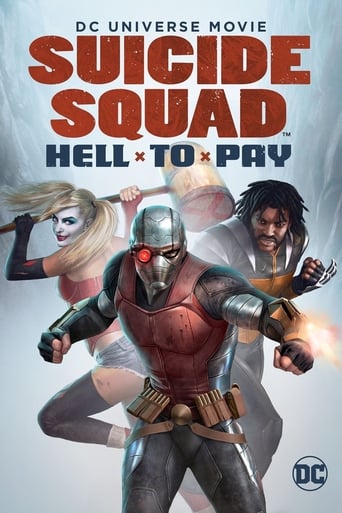 Suicide Squad: Hell to Pay
2018
1 hr 26 min
Animation , Action , Science Fiction
Task Force X targets a powerful mystical object that they will risk their lives to steal.
Cast:

Christian Slater , Tara Strong , Billy Brown , Liam McIntyre , Vanessa Williams , Kristin Bauer van Straten , Gideon Emery


Reviews
The Worst Film Ever
... more
This movie was so-so. It had it's moments, but wasn't the greatest.
... more
It's a feast for the eyes. But what really makes this dramedy work is the acting.
... more
Great story, amazing characters, superb action, enthralling cinematography. Yes, this is something I am glad I spent money on.
... more
Far from the quality of its movie!! I mean the storyline... And the annimations are just a horror show!! Wayyyyy toooo much sexual stuff for an annimation disallowing kids to watch it! Plus the villains seem to aim their guns at tghe wall and even deadshot misses his targets in this!! Hell I thought deadshotg was a one bullet type of guy but in this he seems to own a machine gun lol! Utter waste of bloody time... It just shows how missarable DC has become nowadays.
... more
So ever since Suicide Squad 2016 I've been a fan of the suicide squad in general. I really enjoyed the Live Action one but Batman Assault on Arkham (2014) was even better! So after those two great movies this one really upset me and I am heavily disappointed. The jokes were bad the voice acting was terrible and most of all the plot sucked. The only reason this is 2/10 instead of 1 is because I liked the soundtrack.If you like the Suicide Squad then dont watch this movie it will piss you off with how bad it is.
... more
This is spoler free version.1. Animation and pace is awful, same goes for jokes and "funny scenes". It has been made so badly that it is even hard to watch. TO be fair 70% of my bad rating is just for quality of animation, it's like technologies goes more advance so you would assume that it would be easier to make better animation but nope. But NO, I'm not just complaining about quality, but more about how it is put together when you have a lot of awkward silence and just badly executed jokes, it just made all characters like not using their potential and from latest I have seen Gasoline light and "Batman and Harley Quinn" and both from animation perspective was better .2. Plot was ...too much overused props (story-wise) , badly put together and nothing that would exciting or eye catching. I can recommend this only to fans, as any expansion of DC cinematic/animation universe is great thing but it would be so much better if they would put more effort as it seems they don't even try. Yeah, I'm harsh but thats how I see this, so I'm really hoping Batman Ninja will be amazing and will make forgot this. (need to wait for uk release).
... more
This is a fun little adventure that doesn't live up to the heights of the first animated Suicide Squad film, Assault on Arkham, but certainly stays truer to the spirit of the comics than the live action version.The best part of this film is probably how it adds to the ongoing animated DC universe. There are lots of moving parts to the story and the introduction of some new characters, while the expected few also play a major role. Without going into spoilers you will definitely want to check this film out if you have been following the developing world spread across these movies.Overall this is a fun adventure that sticks to the spirit of the squad, there are a lot of great characters, actions and deaths to keep any fan happy, and the steaks stay relatively high throughout.
... more