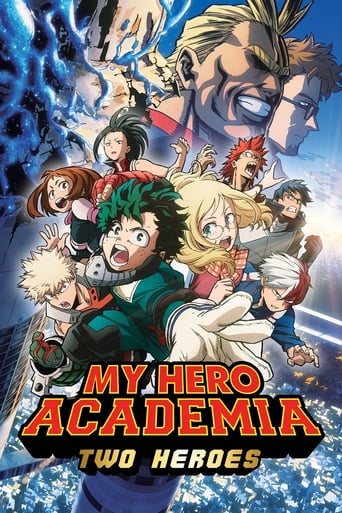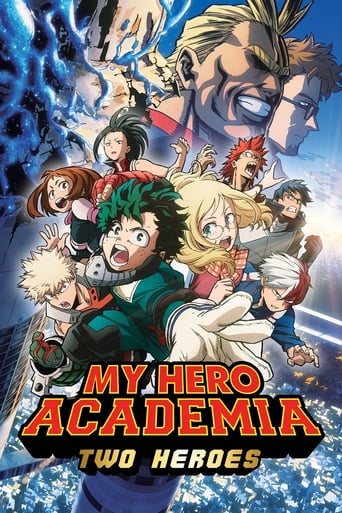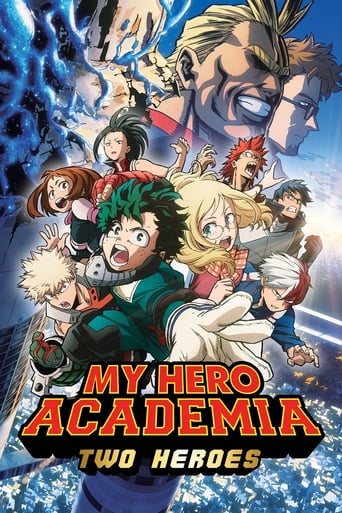 My Hero Academia: Two Heroes
2018
1 hr 36 min
Adventure , Fantasy , Animation , Action
All Might and Deku accept an invitation to go abroad to a floating and mobile manmade city, called 'I-Island', where they research quirks as well as hero supplemental items at the special 'I-Expo' convention that is currently being held on the island. During that time, suddenly, despite an iron wall of security surrounding the island, the system is breached by a villain, and the only ones able to stop him are the students of Class 1-A.
Cast:

Daiki Yamashita , Kenta Miyake , Katsuhisa Namase , Mirai Shida , Nobuhiko Okamoto , Yūki Kaji , Ayane Sakura


Reviews
Undescribable Perfection
... more
Fun premise, good actors, bad writing. This film seemed to have potential at the beginning but it quickly devolves into a trite action film. Ultimately it's very boring.
... more
The best films of this genre always show a path and provide a takeaway for being a better person.
... more
Like all filler movies of this kind, you shouldn't expect much in terms of plot or any meaningful character development. The premise is about the heroes going on a trip to an island where you can freely use your superpowers (something which is there just for convenience and doesn't have in-series logic). It's supposed to be a secret trip where only the main character and his mentor will take part in, but because of plot, his entire class is there as well all by accident. And also because of plot, a villain attacks when all are conveniently there to stop him. The best way to enjoy the movie is to see it as a family friendly version of the first Die Hard movie, with a final showdown that doesn't end with a couple of punches (something the series is notorious for). But even then, you will have to wait a lot for the good part to begin, as almost half of it is wasted on flashbacks we have already seen and got sick of after a dozen times, as well an opening chase scene regarding a young Almight that served no purpose other than showing off the talent of the animation team. The new characters introduced in the movie are an old friend of Almight (used for building some lazy dramatic revelation towards the end), the daughter of said friend (used only for rehashing the same cheap drama as Deku's backdrop, as well as being waifubait), and the leader of the baddies, a completely uninteresting one-dimensional villain you will forget as soon as the movie is over. I didn't like any of them.The old characters are basically the whole class who just happen to be there and just happen to take part in taking out the baddies. They are just fan service, since they could be absent from the movie and nothing would be any different. In fact, the movie would be about half an hour shorter, since it wouldn't waste time on showing them repeating their one-character trait for the hundredth time, or fighting villains and robots that serve nothing as far as the plot is concerned. In fact, if they were absent, whatever plot there is in this stupid film would make more sense. The baddies wouldn't mysteriously need hours to get the mcguffin when they know where it is and how to open its safe, and Almight wouldn't magically recover his stamina in an instant for the final showdown, when he was struggling to maintain his bulky form for so long. So if you break this movie into what it's about, you basically get a needless opening chase scene, a filler slice of life part where everyone repeats his one-character trait, a part where everyone fights minions and robots that serve no narrative purpose, and the final fight with a forgettable villain. At least said final fight is very rewarding if you want to see a dozen Detroit Smashes or whatever. But even then, don't go asking why the heroes never seem to get severe injuries despite the constant battering, or why a trinket can make a second class villain more powerful than All For One. It's just hollow spectacle you will watch and forget very fast.
... more