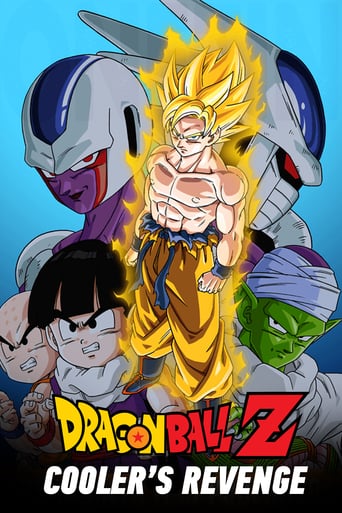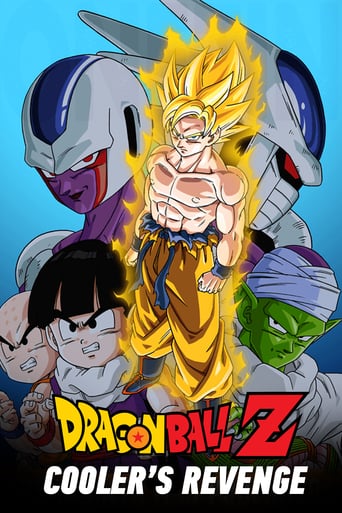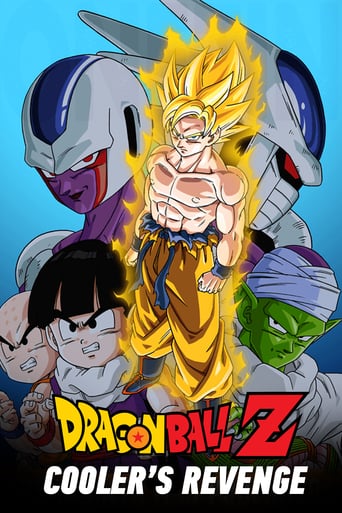 Dragon Ball Z: Cooler's Revenge
1991
0 hr 48 min
Animation , Action , Science Fiction
After defeating Frieza, Goku returns to Earth and goes on a camping trip with Gohan and Krillin. Everything is normal until Cooler - Frieza's brother - sends three henchmen after Goku. A long fight ensues between our heroes and Cooler, in which he transforms into the fourth stage of his evolution and has the edge in the fight... until Goku transforms into a Super Saiyan.
Cast:

Masako Nozawa , Toshio Furukawa , Mayumi Tanaka , Naoki Tatsuta , Naoko Watanabe , Kōhei Miyauchi , Ichirō Nagai


Reviews
A Disappointing Continuation
... more
Pretty good movie overall. First half was nothing special but it got better as it went along.
... more
The biggest problem with this movie is it's a little better than you think it might be, which somehow makes it worse. As in, it takes itself a bit too seriously, which makes most of the movie feel kind of dull.
... more
One of the worst ways to make a cult movie is to set out to make a cult movie.
... more
This was a great DBZ movie, the English dub is well done by FUNimation is well dubbed by FUNimaion and as an added bonus the DVD even includes a Spanish language track! How cool is that? All in all, it has great battles, and a good story. This is a worthy DBZ movie for your collection. I give Dragon Ball Z: Cooler's Revenge a 8/10.
... more
I'm a big fan of dragonball and dragonball Z and this is the 5th of 12 DBZ movie spin-offs. And it's also one of the best! This and any DBZ movie is strictly for fans. All the dbz movies are very similar, a powerful villain and his henchmen, the villain's super transformation, and their all about 45minutes long. Also the confusing continuity that's in the dbz movies. It's hard to say if this movie is cannon to the TV series, the continuity between the movies and TV series is very confusing, because in some ways the continuity fits, other ways not. Well in this story Freiza was killed on Namek, he was not yet or never was brought back to life by his dad,King Cold. Goku came back to earth soon after wards, before the arrival of Garlic Jr. and the androids. But what makes this movie better then other dbz movies is that it has a great villain, Cooler. The plot is simple and predictable but it was a good idea by dbz creator Akyria Toiyami of making Freiza have a brother and making him a cool(pun intended) character. First I like his name, Cooler aka Coola. I like his look, he looks like both Freiza and his dad but he's kind of handsome in a alien kind of way. His English voice is perfect with his look. I like his personality, he's evil and arrogant like his dad & brother but he seems to have a more no nonsense attitude while Freiza prolonged a lot stuff. Also Cooler seems to be more hands on while Freiza let his henchman do his work. But I think it dosen't make sense that Cooler has only three henchmen while Freiza had an entire army but it's possible he has an army we don't see and they only briefly explain his role in the evil family business, apparently Cooler & Freiza have their own domains in the galaxy, made clear by Cooler saying "Freiza's the one in charge of this quadrant" & "I got seven planets to destroy by the end of the day" but since he's only in this one movie they don't explain him more then they need to. Cooler's special forces, Armored Squardan, are pretty cool. I like the leader Saiza. I like Cooler's relationship with Freiza, the two were rivals and Cooler's so cold hearted he dosen't even care about his brother's death just how it disgraced his family name. The fights in this movie are really good. Cooler's 4th transformation is great, he looks like a football player from hell and Goku's transformation to super saiyan works well into the story. How Goku defeats Cooler is great. My favorite part is the opening,where Cooler makes a pit stop to see Freiza destroy planet Vegeta, great way to introduce him and it comes full circle at the end. The English dubbed version might be better then the original Japanese version with better dialog and I love the heavy metal music that plays through out the story. Cooler is my favorite dbz movie villain and I'm glad they brought him back for a sequel. A dbz classic!
... more
This film features the first of two appearances of Cooler, the older brother of Frieza. A creature that is going to go after the one who killed his brother though he does not really care all that much for his younger sibling. This one like the previous Z movie "Lord Slug" tried to sync a rocking soundtrack to the movie. However, this one had mixed results at best as they just did not do the job of the previous film. Also annoying on the American voice track is the strange Cooler henchman who for some reason is dubbed as having a French accent. You listen to the Japanese track and he is not voiced any differently than any other character and while this may make him a bit more unique in the dubbers minds to me it makes him very annoying. The story has the gang all camping and of course their camping trip is interrupted by the arrival of Cooler and his men. Some good fights here and there, but also the need for more development a lot of these Z movies need. The final fight is a bit okay, and a bit to over quickly. Though you do get to see a fifth stage of the Frieza clan, though to me it just looked a lot like stage three to me. Once again though Vegeta is sadly absent from the movie, and considering how popular he is it is sad that he was in so few of the movies.
... more
One of my all-time favorite DBZ films, telling the tale of Cooler, Frieze's older brother. Apparently he gets news of his sibling's demise at the hands of all people a Saiyan and he sets out to avenge him. I enjoy the humor very much and this must be the final film to feature Gohan's pet dragon, Icarus. Gotta love that cute little thing (lol). Sean Schemmel voices Son Goku while Andrew Chandler is Cooler, fine performances.The transformations in this movie are incredibly sick, like Cooler reaching his fourth form and this film also features the debut of Super Saiyan Goku. That scene alone is my favorite among the whole film, the music blending perfectly. In fact, there's goes another reason to love this addition: the hard-core rock serving as its score. Featuring songs by Drowning Pool, Breaking Point, and American Pearl, among others. My favorite songs would most likely be "Change" by Deftones and "Revelation" by American Pearl. The action is non-stop and it amazes me how the tide of the battle switches around so much. First Goku's anger seems to give Cooler trouble, who can barely counter his moves. Whether he is in fact taking it seriously or not, good old Goku appears to be in control of the battle. But then Cooler transforms and begins to tear our hero apart with considerable ease. It can be assumed Goku was using the 20X Kaioken, seeing as that's how far he'd advanced up to that point in season three (Episode 92), and yet Cooler flies straight through his Kamehame-Ha beam as if it were a mist. Even Frieza struggled to hold this attack back, leaving his hand burned. But then it appears Goku's Super Saiyan power level has risen since Namek because he defeats Cooler in three blows. In fact, Cooler can't even keep up with his movements at all.Just something inquisitive fans might ponder. Oh yeah, Piccolo is a bad-ass in the movie!! That's the thing that annoys me about the last two films. Yes, the saiyans are the sh*t but you can't leave out principle characters!!
... more