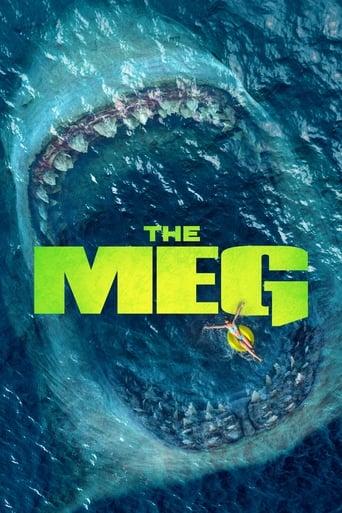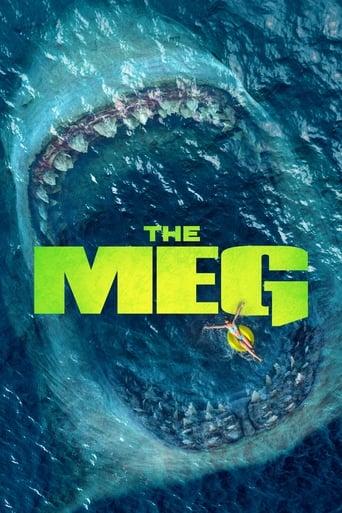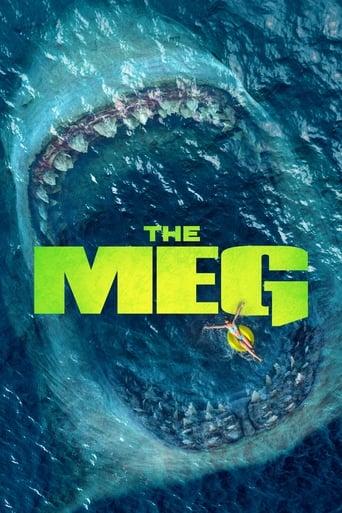 The Meg
2018
1 hr 53 min
Horror , Action , Science Fiction
A deep sea submersible pilot revisits his past fears in the Mariana Trench, and accidentally unleashes the seventy foot ancestor of the Great White Shark believed to be extinct.
Cast:

Jason Statham , Li Bingbing , Rainn Wilson , Cliff Curtis , Ruby Rose , Robert Taylor , Ólafur Darri Ólafsson


Reviews
Very interesting film. Was caught on the premise when seeing the trailer but unsure as to what the outcome would be for the showing. As it turns out, it was a very good film.
... more
At first rather annoying in its heavy emphasis on reenactments, this movie ultimately proves fascinating, simply because the complicated, highly dramatic tale it tells still almost defies belief.
... more
A film with more than the usual spoiler issues. Talking about it in any detail feels akin to handing you a gift-wrapped present and saying, "I hope you like it -- It's a thriller about a diabolical secret experiment."
... more
By the time the dramatic fireworks start popping off, each one feels earned.
... more
The Meg is the embodiment of everything wrong with the average shark flick, and yet it manages to sink lower than the bottom of the deepest, bluest sea. Horrible one-dimensional characters, unimaginative cinematography, and a story so surface level it's an insult to the ground floor are only a few of the problems this bottom-feeding film has. This film is incredibly lazy and relies entirely on special effects to carry its paper-thin plot and horrifically uninteresting characters through a mind-numbing two hours.One fundamental flaw that one will notice immediately is the tone, as it's nothing like the trailer advertises. The trailer makes the film seem a lot more wink-wink than it actually is, but there's hardly an ounce of fun to be had in the film aside from a stupid gag with a dog, akin to a certain laughable scene from Independence Day. Most of the film is played straight for the most part, and it's not nearly as over-the-top as a shark movie needs to be nowadays. I mean seriously, you either have to go big or go home, so either go the stupid schlockfest route like Sharknado, or go for more of a serious Jaws approach. The movie is somewhere in the middle and rather than feeling unique it feels like an ungodly chimera that needs to be taken out of its misery. There are many scenes that drag on far too long with people talking and nothing really happening, and since the movie isn't very serious there is never any suspense throughout it.There's also the issue of the violence being toned down by the studio. Jon Turteltaub apparently had to cut many gory moments out of the movie to secure a PG-13 rating for marketing purposes, to which even he was disappointed. What results is a very mild-mannered shark flick that constantly feels like it pulls its punches. Though I'm sure this film toed the lines of the PG-13 rating, it doesn't feel like it, as there's not much to be invested in and the result is low-impact violence that isn't worth its weight in beans.There's a bunch of characters in the movie and none of them have any depth besides trying to be a certain basic template for just about anyone to relate to. The diversity hire aspect is also apparent to an excessive extent here, with some hilariously ironic stereotyping to boot, such as nerdy Asians and a black man who can't swim. There's a clear goal here of getting into China's wallets with some mild marketing to less-profitable minority groups that's only thinly veiled by dumb, likely polarizing humor, given how easily offended radical liberals, i.e. the target demographic, tend to be at immature humor nowadays.I felt the sound design was awful. I was bored out of my mind during what was intended to be the thrilling climax of the film, and it instead felt like a Coldplay music video. The music was not suspenseful or memorable, and dipped between the grating noise and soothing ambience on a whim with a motley crew of instruments all tossed together in a quantity over quality sort of fashion. There are moments in which the music sounds fine, and other moments in which it sounds completely lacking in confidence and desperate to be more grandiose than it truly is. The score wasn't even the problem though, as I found myself crippled with the cringe of the movie being book-ended with a Thai version of "Hey Mickey" just out of nowhere. It left me with an empty feeling inside, of which I would need weeks of counseling to reverse. The applause from the audience rang out like explosions in my brain, leaving me scared and disoriented. The CGI blood on the screen gave me a temporary case of PTSD.The name is also incredibly stupid. I get that the book is called 'Meg,' but that's even worse. The Meg that immediately comes to just about anyone's mind is Meg Griffin from Family Guy, and I don't think I need to explain further why that's an issue. Megalodon is also an incredible title, and is in fact what Mastodon used as a song title one time, and it didn't make people cringe, so that's probably a better route to take.The Meg isn't stupid enough to be entertaining, nor is it self-aware enough to be charming, and it most certainly isn't shot well enough to be exciting. This is a terrible shark film, and it's not like I'm too harsh on the genre either. I'd recommend Deep Blue Sea and Sharknado for dumb fun, and Jaws for a more serious horror film. This movie is basically all the worst elements of the countless shark films that came before it. It barely attempts to cover up its flaws, and as a result just feels like a clear bait-and-switch meant to keep audiences in their seats long enough that they can't get a refund.
... more
Shark thriller movies were first critically recognized after the release of the 1975 masterpiece Jaws. Since then the genre has become a Hollywood favorite among audiences of cinema. Some honorable mentions are The Shallows and 47 Meters Down. While films like these may not be legendary by Hollywood standards (Jaws being the exception), they certainly make for great times at the movies. That being said, films like these are looked down upon for often being impractical in their presentation. If people are expecting to find realism in a film about unusually large sharks menacingly perusing helpless swimmers and sailors on boats they can easily turn over, they are looking for it in the wrong kind of film. Visually this movie is stunning. Megalodon himself is larger than life to the point where he can't fit in the entire projection screen. It's direction and cinematography deserve recognition for the results are jaw dropping, or in Megalodon's case jaw crunching. Like all shark thrillers, this film's suspenseful entertainment value is primarily what it has going for it. Where it unfortunately lacks in introducing a cast of strong characters, it succeeds with providing audiences with enough jump scares and terrifying action sequences to satisfy their expectations. To repeat, any audience viewers hoping to find realism in The Meg's story, action, character decisions or the resolution for that matter, look for it somewhere else. Realism will never exist in these types of creature horror films. Go watch The Meg with a positive state of mind, shut the brain off, enjoy what good it has to offer and remember what all the people involved in the project intended for it to be from the beginning which is a fun, exciting man vs. prehistoric beast flick that may leave beach visitors and boat travelers hesitant about going back out into the ocean again.
... more
If you want thriller and cant wait meg is the perfect movie for you
... more
. . . extinct for two million years, and Arch Demons for at least that long. However, the filmmakers at the always eponymous Warner Bros. use THE MEG to warn us that both of these assumptions are likely fallacies. Just as a man-made thermal updraft allows a couple of megs to escape the methane barrier imprisoning them for eons, Warner seems to be suggesting that the Devil's Disciples toiling for the Kremlin's Red Commie KGB have unleashed the noxious hot air of a vicious buffoon to resurrect Lucifer from the Gates of Hell to preside in America's once Hallowed Oval Office. By depicting "Jonas Taylor" as initially stymied in his attempts to eradicate the monsters chewing up his friends, Warner's allegory warns us that it will be very difficult to impeach a Game-Show-Host-in-Chief just because he's Possessed by Satan. Is Warner literally prescribing depth charges and heavy artillery to deal with this current threat to the USA's very survival? That's a tough one to answer for those lacking the time to watch Shark Week. In any event, Citizens should be thankful that Warner is helping us through our current travails with THE MEG.
... more