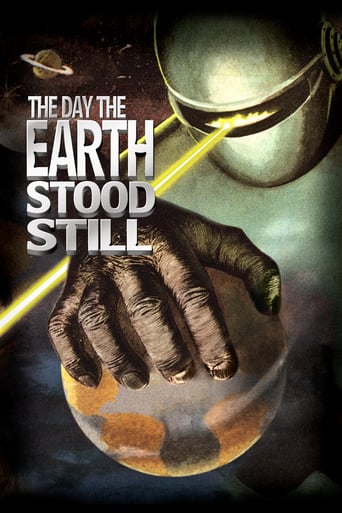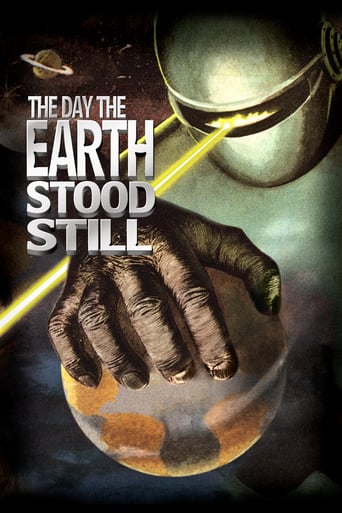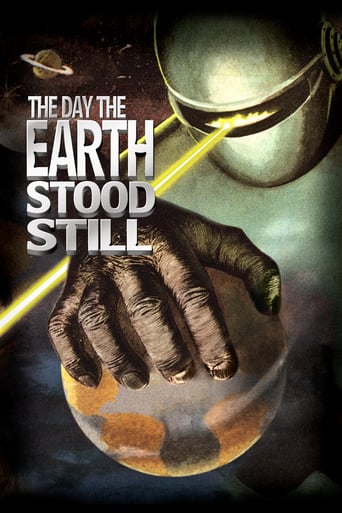 The Day the Earth Stood Still
1951
1 hr 32 min
Drama , Science Fiction
An alien and a robot land on Earth after World War II and tell mankind to be peaceful or face destruction.
Cast:

Michael Rennie , Patricia Neal , Billy Gray , Sam Jaffe , Hugh Marlowe , Edith Evanson , Frank Conroy


Reviews
Memorable, crazy movie
... more
Excellent and certainly provocative... If nothing else, the film is a real conversation starter.
... more
The film may be flawed, but its message is not.
... more
The acting is good, and the firecracker script has some excellent ideas.
... more
The movie was made one year before I was born. I remember seeing it for the first time when I was very young. It enthralled me. It still does. It installed a sense of the important of science and of the greater universe. It launched me in the direction of loving space and I ended up becoming a doctor. I am serious. It did exactly what a movie is supposed to do change our minds.
... more
Flaw in the movie: Klaatu stayed in Room 306 of Walter Reed hospital. But when he later meets Professor Barnhart he says he stayed in Room 309. Just noticed this flaw having watched TDTESS for probably the 5,000th time since 1957. This film should be remade from the original... no new plot.
... more
I'm not sure if this a true "classic" but it's certainly excellent.As kid in the 1960s I saw this multiple times on the syndicated "Saturday Night at the Movies". I loved it then and still enjoy it now. The special effects look very weak today and it's bit preachy but the performances, dialog and pacing are top notch. The characters and setting come across as genuine representations of the era without any maudlin melodrama or contrived romantic distractions.The benevolent desire expressed by Klattu for Earth to join in peaceful interplanetary relationship is strangely offset by the warning of "And if don't do it our way we'll smash you like a bug". I suspect a more nuanced approach would ring more comfortably in our ears today.In any case, the acting is superb and the movie well-directed. Definitely in the top echelon of film-making.
... more
Just saw this recently at Netflix. I thought it was funny that Klaatu, an alien, looked exactly like humans. That aside, the story and message were really good, and in some ways relevant to today: We need to stop being so violent and warlike before we destroy ourselves and/or other planets and possible other lifeforms that may be out there as we continue to make further advances into space. Also the idea of being afraid of the unknown. Klaatu was polite, non-violent, and direct in his quest reach a message to all nations. But the military saw him as a threat and did not want to listen. They wanted to control him and then kill him. A lot of this made me think of how some people today are xenophobic and are afraid of other cultures. Instead of getting to know one another, it's easier to be paranoid and violent.Some miscellaneous stuff: I wonder if Gort was an influence for Cylons in the Battlestar Galactica 1970's version? Ha. If you watch you'll see what I mean. The idea we've seen in Star Trek about there being an organized Alien presence with rules, laws, and a system, etc. is also in this movie. I love the way the ship seemed seamless when it closed.Anyway, it sort of seemed like a satire using science fiction to get a message across. Good job.
... more