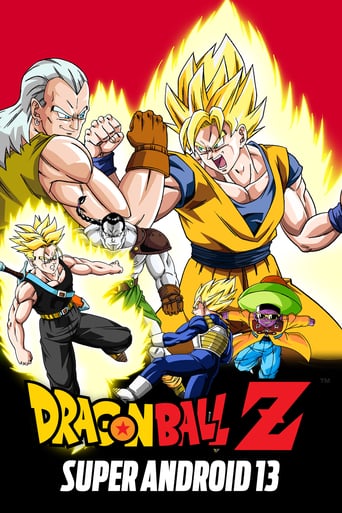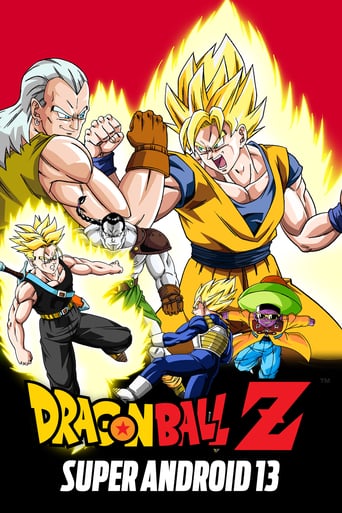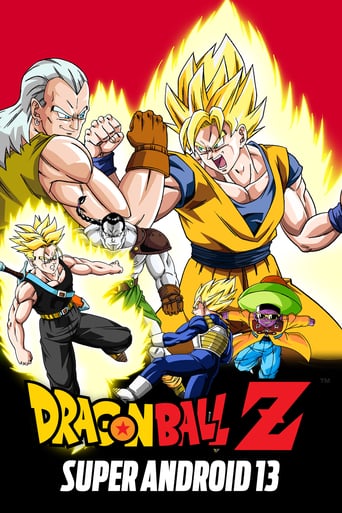 Dragon Ball Z: Super Android 13!
1992
0 hr 46 min
Animation , Action , Science Fiction
Dr. Gero's Androids #13, #14, and #15 are awakened by the laboratory computers and immediately head to the mall where Goku is shopping. After Goku, Trunks, and Vegeta defeat #14 and #15, #13 absorbs their inner computers and becomes a super being greater than the original three separately were. Now it is up to Goku to stop him.
Cast:

Masako Nozawa , Ryou Horikawa , Takeshi Kusao , Toshio Furukawa , Mayumi Tanaka , Kōhei Miyauchi , Kazuyuki Sogabe


Reviews
Like the great film, it's made with a great deal of visible affection both in front of and behind the camera.
... more
It's the kind of movie you'll want to see a second time with someone who hasn't seen it yet, to remember what it was like to watch it for the first time.
... more
Although I seem to have had higher expectations than I thought, the movie is super entertaining.
... more
This is a completely story-less, low-content and suspense-less movie, (more a lengthy TV episode) It's not worth standing on a shelf with other Dragonball Z movies this junk has nothing to offer, the music is stinky boring, just like the fights, the characters the whole presentation and the little content I can not recommend anyone to look at it. The animation is nice, and at least the some fights are well animated.
... more
Yes, the gang must once again unite in a movie to take on a threat that could not possibly exist in the regular series time line. This one has three androids activated to take on Goku after Dr. Gero's death. Granted, it does make sense that there were other androids, but there is really no place for this particular battle to occur. Of course, that is par for the course in a Dragonball Z movie, then it is not to surprising as the series does not really allow for there to be an other battles than those you see. It is funny to have Goku shopping with Chi Chi at the beginning and the fight is somewhat cool. Vegeta is once again in a movie, I think this was the second film he was in and he does a bit in this one, still he never really got to impress all that much in the movies typically being over matched to the extreme with Goku doing most of the work. Like most of the films, this one too could have benefited having about ten or fifteen minutes more to develop the story more and add some more punch to the final fight. The only movie in the series to have a decent run time would be the next film featuring Broly. This one though is somewhat good and it is nice that they have three androids for the three Super Saiyans to fight at one point so you get to see them all do their thing before the obvious thing happens and Goku must summon his strength to win.
... more
This movie is one of the finer of the Dragon Ball Z movies. It's the first movie to introduce Mirai (adult/future) Trunks. Past this is a small summary of what happens, since not much happens in the first place (It's mostly action oriented), don't feel too bad about reading on. *** It begins on a day when Chi Chi, Gohan, Goku and the rest of the gang go shopping and three of Dr. Gero's androids.... yes he has more... activate on a mission to destroy son Goku. Goku, of course, begins his fight with-in the city but decides to take it to a more remote location up north where people won't get hurt during the fight. Of those to show up, we get to see Vegeta kick some pimp bot butt (you'll see what I mean) and Trunks slice open a can of whoop *** with that sword of his. Of course, three androids are enough... but another android arises that is worse than.. uhh, well... about as bad as all three of them put together! SUPER ANDROID 13!! Well, the only way anyone can think to defeat him is with a Genki Dama... but will that be enough?? ***Anyway, it has some really great fighting and is a great movie to watch again and again. BUT, it isn't too strong on the storyline level, so don't expect much. Hey, only a FEW dbz movies have much of a storyline anyway. Enjoy it for what it is. Some great dbz fighting and one of the most wicked looking expressions I've ever seen on Goku's face!
... more
When I saw this movie, Dragonball Z: Kyokugen battle!! San dai super saiyajin (Dragonball Z Movie 7) I thought it would be interesting. Instead, all I got was 3 androids kicking Goku and Trunks's asses. My fav movie in the DBZ series is Movie 13 (exploding dragonball fist). If you want to find out more about androids and how Android 13, 14, and 15 fight and merge into Super 13, be my guest. 5 stars. Could do much better....
... more