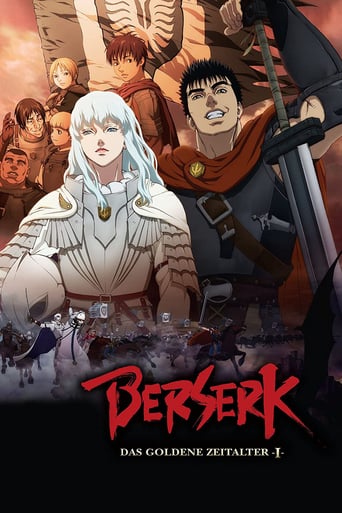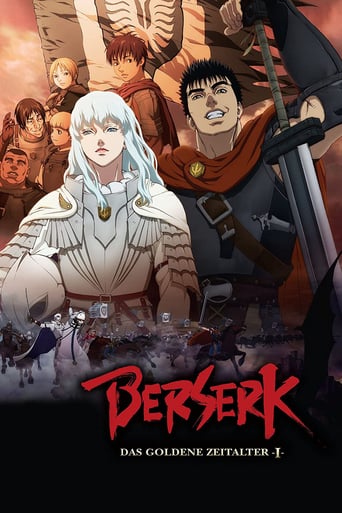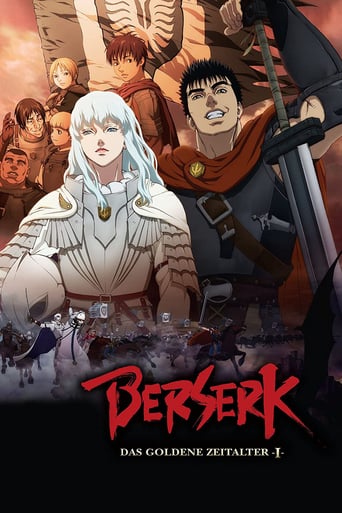 Berserk: The Golden Age Arc I - The Egg of the King
2012
1 hr 16 min
Adventure , Fantasy , Animation , Action
Guts, an immensely strong sword-for-hire, has little direction in his life, simply fighting one battle after the next. However, this all changes suddenly when he meets and is bested by Griffith, a beautiful and charismatic young man who leads the Band of the Hawk mercenary army. After Guts joins the Band and the relationship between the two men begins to blossom, Casca, the tough, lone swordswoman in the Band of the Hawk, struggles to accept Guts and the influence he has on the world around her. While the two men begin to fight together, Griffith continues to rise to power, all seemingly in order to reach his mysterious, prophesied goals. What lengths will Guts and Griffith go to in order to reach these goals, and where will fate take the two men?
Cast:

Takahiro Sakurai , Yūki Kaji , Takahiro Fujiwara , Toa Yukinari , Yoshiro Matsumoto , Minako Kotobuki , Kazuki Yao


Reviews
To me, this movie is perfection.
... more
Excellent, Without a doubt!!
... more
This is a coming of age storyline that you've seen in one form or another for decades. It takes a truly unique voice to make yet another one worth watching.
... more
Actress is magnificent and exudes a hypnotic screen presence in this affecting drama.
... more
If anything, the story of Berserk needs to be expanded upon, not shortened. Basically, they are taking a 10-hour long show, improving the visuals, and reducing to the story to 3-4 hours. I'm curious who thought this would be a good idea. Many pivotal moments that occurred during the series were completely glossed over in this movie, and in many cases, left out entirely. What was great about the show was the emphasis on the story and character development. How can you develop the characters when you're cramming everything into such a short amount of time? Sure, the re-imagined action sequences and animation are great to look at, but that was only ever a small part of what made the series so good. Berserk being my favorite (if not, second favorite) anime of all time, this was doomed to fail for me. This first part is entertaining, sure, but doesn't do justice to the original series. It's just not possible. That being said, it might be a decent watch if you're a first time viewer of Berserk, but for true fans of the show, I don't see how this could be acceptable. They should have just redone the entire series and gave it a proper ending. Or, continued the show from where the original left off. I'm certain either of these options would please fans more, rather than giving them cheapened, hyped-up movies. I'll watch the rest of the movies just to see how they turn out, but I suspect I'll be disappointed with the rest. I can only give the first part a biased 5 out of 10.
... more
This is the same story as in the original series but shorted down to fit the big screen.The main problem is not the story or the anything like that, but the total lack of control in this project, the CG used for this film is by far the most horrible i have seen in some time. It takes all the visual joy out of this film. I don't know if this has to do whit the meltdown in the anime industry as a whole but the lack of talented staff and a budget mad this the most disappointing film of 2012 for me.But if the visual's don't matter to you as the viewer the i still say that you get more out of the original series.If this is a indication of things to come we are in serous danger of loosing out on some potential awesomeness to come.
... more
Sorry but I don't think this was nearly as good as it could of been. Basically if your new to Berserk watch the old series otherwise you will have no idea what in the hell is going on. The main appeal and the best part of Berserk is the characters, the story and the awesome dialogue they have between them. Well in this movie series, they've pretty much left that out, no character development, weak dialogue they've changed it in some instances so the characters (such as the King of Midland) seems to have a totally different persona. What happened to the Queen scene amongst others? One of my fav scenes was when Guts meets Zodd the Immortal. Zodd is impressed by Guts' swordsmanship, Guts realises whilst their skill is not equal, at least the strength of their blades are. So Guts places his life on the strength of his blade, Zodd realises this and accepts his challenge. But in the movie, no duel acceptance, guts just says to himself 'at least our swordsmanship is on par,' basically changing the scene and made it a terrible let down on top of not making sense. Just ruined one of the most epic scenes in Berserk. Then when Guts fights General Boscone and his blade is broken because of the previous battle (100 men fight) Zodd, who is just awesome watching from afar, tenses his demon muscles and throws him his sword. Well in the movie, Guts just throws up a flag and cuts him with his beaten and blunt blade. Ruined another great scene. And I really felt for Corkus, all the characters felt like real people, in this movie, they've just left out the story basically, which is the main point of a series, film or book/manga, to tell a 'STORY.' I noticed there were more a lot more tit and ass shots in this movie version which annoyed me, hell why not have a full on sex scene whilst were at it, oh wait there is. And yes I realise what happens at the end, but that's in context, not just mindlessly flashing a bit of tit/ass to keep people interested, and whether its a game, movie or TV series, when they need more ass to keep you interested, you know its making up for something its lacking. I don't know if there just fast-forwarding through the series to get to where the last original series ended, if that really is the case, then I take back what I say, but judging from the changes they've made, I don't think that's going to be the case.The animation work is great, but its like graphics in games, if the content is crap, no matter how good it looks, it won't actually be that good fun. Like covering a turd in glitter if you will, albeit that's a bit harsh. Nah actually, it wasn't very good. Sorry I really love Berserk it is one of my fav animes if not my fav but I just felt this was a real let down. Anyone else feel the same?
... more
I liked very much the original "Berserk" anime series, so when this movie was announced, I wasn't sure about what to expect.However, I have to say that I'm pretty satisfied with what I saw, which keep all the good elements from the story, being a more ambitious adaptation of the comic created by Kentaro Miura, with all the possibilities that modern animation could offer.The battle scenes from this movie are quite impressive and pretty well done, at first I had my doubts of use of CGI animation, but the final result was pretty well done. The designs were good too, even when I liked more the art from the first anime series, this does still have the essence of the source material, something that made this a more than worth-watching experience.I now have high expectations about the sequels, and I hope that now the entire "Berserk" story get an animated adaptation.
... more