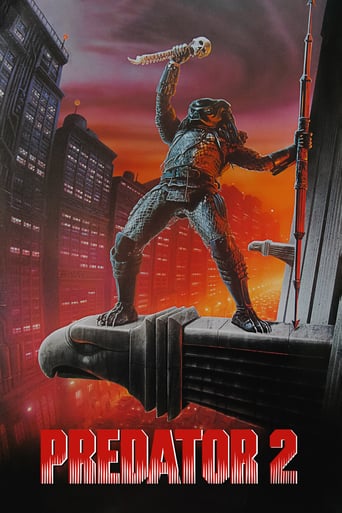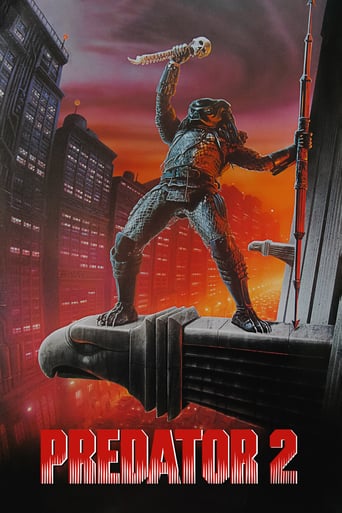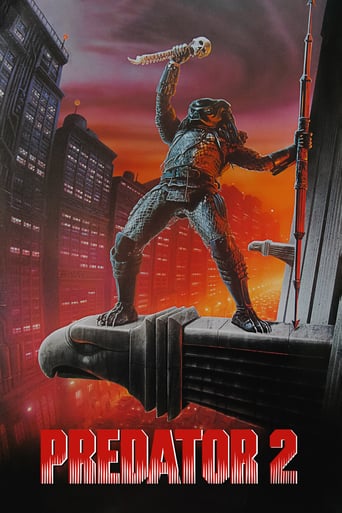 Predator 2
1990
1 hr 48 min
Action , Thriller , Science Fiction
Ten years after a band of mercenaries first battled a vicious alien, the invisible creature from another world has returned to Earth—and this time, it's drawn to the gang-ruled and ravaged city of Los Angeles. When it starts murdering drug dealers, detective-lieutenant Mike Harrigan and his police force set out to capture the creature, ignoring warnings from a mysterious government agent to stay away.
Cast:

Kevin Peter Hall , Danny Glover , Gary Busey , Rubén Blades , María Conchita Alonso , Bill Paxton , Robert Davi


Reviews
Very best movie i ever watch
... more
Memorable, crazy movie
... more
It's easily one of the freshest, sharpest and most enjoyable films of this year.
... more
Close shines in drama with strong language, adult themes.
... more
Predator 2 is an alright movie but comparing it to the original is futile. None of the main cast return and the setting isn't a lush jungle anymore, it is downtown los angeles. But there are some decent set pieces and one in particular where the Predator descends upon a gang is quite good. Ably supported by well known faces like Danny Glover and Bill Paxton Predator 2 is better than a bad movie but not as good as a great one. Still if you have seen the original you can watch this.
... more
Never understood why this was not liked - it has a 25% score on RT, come on!!The acting is the first thing that gets you. Glover and Busey, then Paxton and of course the great Kevin Peter Hall.Then the mystery. They reveal just enough so you don't know what's happening but still get into the story and never lose attention. Some of the quotes are iconic; like mentioned by the other reviews: "Danny boy", "Do you want some candy", "I don't think he gives a $hit", "You can't see the eyes of the demon, until him come callin'", "Lions! Tigers! Bears! Oh my!", etc...And there are the weapons, that flying homing Discus grinder thing, or the folding javelin, or the cutting net. oh my!
... more
Sooo... an alien hunter from God-knows-where travels to Earth to hunt gang members? A gang member's head is worth the hunt? It's funny how many times when the Predator was cloaked, people STILL saw it. Yeah, some "advanced" extraterrestrial that thing was, right? One thing I never understood was why was the Predator so interested in Danny Glover's character? Of all the characters, Danny Glover just happened to be the special snowflake to the Predator. The Predator stalks Danny Glover to the graveyard but doesn't attack him, so what was the Predator doing? In the beginning of the film, Danny sees the Predator (while it was cloaked. Yeah, some high tech that thing was, right?), the Predator is just staring at Danny, and the Predator jumps down. Umm... so why didn't the Predator try to kill Danny at that spot?The meathouse scene was ridiculous. The Predator is LITERALLY in the middle of guys with guns and everyone misses their shots. The Predator is right at their faces with that stupid looking spear and killing them. Those guys with guns couldn't kill an alien hunter that is OVER 2 METERS TALL and right at their faces... wtf! After Danny shoots the Predator and the Predator is knocked out, he takes off the Predator's mask and when the Predator wakes up, it grabs Danny's neck and throws him away. Why didn't the Predator just kill Danny at that spot? When the Predator throws its flying pizza cutter looking thing to Gary Busey, Gary's lower half body falls but where is his upper half? Stupid logic.The Predator tries to blow itself up all because Danny tackled it off a building. But Danny prevents the bomb by slicing off the Predator's arm and the Predator starts falling to an old woman's bathroom.You know, at this point, I think it's really funny how this Predator can't kill a cop, even when this Predator encountered Danny many times in this film.After the Predator treats its wounds and runs away, Danny follows it to its ship. Predator was running away from a cop? LOL! Aww, I guess a cop was too difficult for the Predator to kill, even though Danny at this point has no gun.At the end, Danny kills the Predator in hand to hand combat... wait a second, hand to hand? LMAO! And people think Predator is strong? Some old ass Predator shows up and gives Danny a gun from 1715 as a reward and the other Predators take the Predator's body. So according to this movie, when you kill a Predator, its leader will award you. If you belong to a clan where the leader would reward anyone who kills you, you might want to look for a better clan to join. You know, not only was this movie very stupid, but I think it's more stupid how retarded Predator fans think this franchise is connected to Alien franchise all because of a Xenomorph skull easter egg... EASTER EGG. EASTER EGG. EASTER EGG. They don't share the same universe, retards. Movies do easter eggs all the time, they don't mean anything. It was just a joke, the director said so if you watch the making of Predator 2. Are people really this dumb?Predators got killed by humans multiple times in hand to hand combat yet people think Predators can kill Alien? LOL! Arnold beat a Predator's ass by using sticks... STICKS LOL. If Predators are extremely strong then why the fvck do they hunt humans for sport? Predators are obviously not that strong compared to humans. Go ask Adrien Brody, he killed a Super Predator in hand to hand combat.Anyway, stupid movie, stupid plot, and stupid franchise. This franchise really needs to stop piggyback riding on the Alien franchise. It's getting old.
... more
The producers of Predator 2 went out of their way to produce a sequel that would be bigger, louder & even more egregiously violent than the original Predator, and they largely succeeded, especially on that last point.This one takes places on the chaotic streets of Los Angeles in the midst of a violent drug war between Mexican drug gangs and the Jamaican Voodoo Posse with another alien predator stalking for human trophies. Danny Glover is a veteran cop who chases down the predator and gets crossed with Gary Busey who plays a government agent who's following the predator for his own purposes. Busey had not yet gone mad at this point and was doing a real good job in these starched up villain roles, like this movie & Lethal Weapon.Good cast, good script and good production makes this a much better than average sequel and a film that's far better than the other predator and AVP sequels that followed. If you liked the first one, you'll like this one as well, and you won't even miss Arnold.
... more