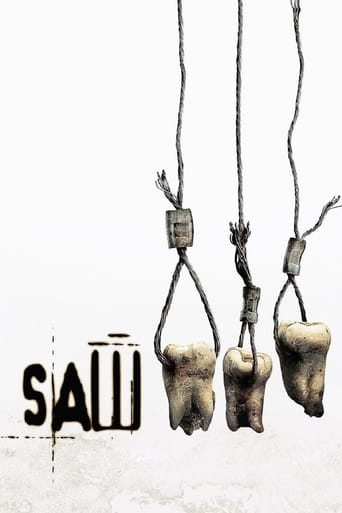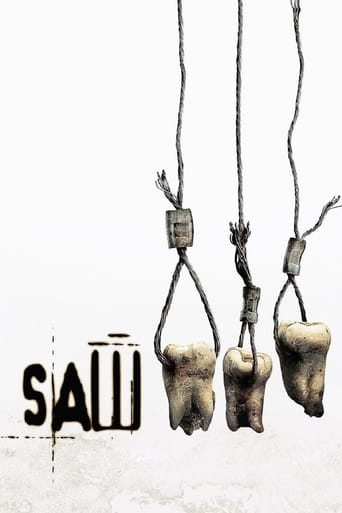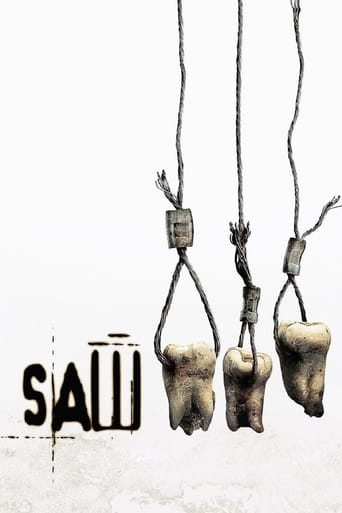 Saw III
2006
1 hr 54 min
Horror , Thriller , Crime
Jigsaw has disappeared. Along with his new apprentice Amanda, the puppet-master behind the cruel, intricate games that have terrified a community and baffled police has once again eluded capture and vanished. While city detective scramble to locate him, Doctor Lynn Denlon and Jeff Reinhart are unaware that they are about to become the latest pawns on his vicious chessboard.
Cast:

Tobin Bell , Shawnee Smith , Angus Macfadyen , Bahar Soomekh , Donnie Wahlberg , Dina Meyer , Leigh Whannell


Reviews
Best movie of this year hands down!
... more
When a movie has you begging for it to end not even half way through it's pure crap. We've all seen this movie and this characters millions of times, nothing new in it. Don't waste your time.
... more
While it is a pity that the story wasn't told with more visual finesse, this is trivial compared to our real-world problems. It takes a good movie to put that into perspective.
... more
One of the most extraordinary films you will see this year. Take that as you want.
... more
The first "Saw" film was an excellent grizzly thriller and the first two sequels were surprisingly good even though they were taken over by another director, Darren Lynn Bousman. I think what I liked most about these sequels is that the director was willing to kill off many main characters from the earlier films. This sequel also benefits from James Wan and Leigh Whannell, the writers of the original film, returning to write the film. This time Jigsaw, Tobin Bell, dying in a hospital bed, but with the help of Shawnee Smith is still able to carry out his games, kidnapping a doctor who's son was killed in a hit-and-run accident and putting him through a series of games/choices/situations where he can exact his revenge on those responsible. The first "Saw" film was unfairly written off as torture porn, when it's really a terrific suspense thriller that happens to be excruciatingly gory. However, the subsequent sequels, this one included, are the typification of the torture porn genre, which is either a good or bad thing depending upon your feelings of the horror sub genre. As films of this disreputable genre go, "Saw III" is nowhere close to being as good as "Martyrs" or "Hostel," but is far better than the worst of the genre (i.e. "Turistas" or the "I Spit on Your Grave" remake). Donnie Wahlberg, Dina Meyer, and Betsy Russell also appear in the film, and composer Charlie Clouser returns to provide another effectively unsettling score.
... more
I loved first movie. I am aware that sequels are often worse than original, but I expected them to stick to formula that worked so well in first movie, so even if sequels have no quality they would at least be fun. I saw second Saw that pretty much keep up with first one and I could not wait to see more. I never expected such unpleasant surprise. I knew this franchise will in time most probably lose some of its awesomeness, but such drastic drop in quality between two contiguous movies really surprised me. Saw III is not so bad by itself, but in comparison with first two this is complete catastrophe. First, it is boring. Few scenes twist stomach pretty successfully, but to achieve that effect one does not need much skill. Tension, suspension and fear are nowhere to be found. Second, this movie insults my intelligence. Unlike in prequels, story is completely linear, boring and predictable. And in addition to that it's full of holes and illogicality. Characters and their actions are unconvincing, especially Jeff. He lost so much time in every room for no obvious reason. If himself was threatened in any way I could understand his hesitation, but he was not. I have no nerves to get into the details, cause it would take to long. Further, flashbacks are lousy and have no purpose in story. For those who saw previous two films they just make this one more boring and unnecessarily stretch it to almost two hours. Last and the biggest disappointment was the end. Regardless of your taste and opinion about first two Saw movies, one thing you have to acknowledge and it's genius mindfak twist that ends them both. Here, they could not make effort even to achieve that. Ending is totally predictable. I knew how it will end, but I hoped that movie made me think that on purpose so they could make even bigger surprise when it ends differently, but that did not happen. It ended just as I suspected and I felt deprived. Movie ends in manner of low-budget gore horrors. In those it's not a flaw cause they do not pretend to be more than they are - movies based on disgusting scenes that do not need intelligent plot to achieve their purpose. But in Saw franchise that present itself as intelligent mystery thriller this is unforgivable. First hour I was bored but hoping that it will get better in time. During second half I was just sad and had to force myself not to give up before the end.5/10
... more
SAW III begins in a super-grisly fashion that sets the path for extreme gore, with a trio of extraordinarily unpleasant incidents. The first sees a virtual reprise of the gag from the original SAW flick – a guy wakes up with his leg chained to a post, and there's a hacksaw to hand. However, in a novel twist, this guy sees fit to get a porcelain slab and proceed to SMASH his foot out of shape until he can twist it through the manacle. Soon after, there's a Native American guy who has to pull a series of hooks out of his flesh before a bomb goes off, and this is indeed the most sadistic, unrepentantly grisly moment in the entire movie – anybody who watches without flinching must be emotionally dead. The final incident sees a woman having to put her hand inside a jar of acid to get a key to unlock the bomb that's wired to her rib cage. It all goes wrong, and her chest is gruesomely torn off. Had enough yet? After this barnstorming opening, things slacken off for a derivative storyline about a sick killer and the doctor who's got to keep him alive – or she dies. There's none of the gore that we saw in the first ten minutes, instead the film becomes largely uninteresting, let down by too many scenes of cod psychology and lots of flashbacks to events in the previous films that don't serve to go anywhere – incidents in the previous movies didn't really need to be fleshed out because they were self explanatory. The film also reveals why Shawnee Smith never really became a star after appearing in 1988's THE BLOB – it's because she's not a very good actress, and her wide-eyed expressions of shock and her mumbling do not amount to convincing acting.On the other hand, Tobin Bell is self-assured and gives an entertaining performance as the fiendish killer, and Iranian newcomer Bahar Soomekh is great as a leading victim. But Angus Macfadyen's world-weary cop is boring, his grief unbelievable, and there's not a shred of sympathy for him as the story unfolds. Of course, there's a series of weird deaths, this time including a gratuitous naked girl – you won't believe how many shots we get of her naked body – and a bout of unpleasantness involving some rotted pig carcasses which tries to get the viewer spewing. The "rack" is probably the second worst torture in the film – a black guy has his arms, legs, and finally head twisted out of their sockets – but by this time the viewer has become jaded to the bloodshed – it's not as effective as in the film HOSTEL, in which the brief glimpses of torture made them all the more disturbing. Things culminate with some brain surgery (you'll see worse in CASUALTY) and some yawn-inducing "twists" which pave the way for yet another sequel. So SAW III is okay if you're looking for gore, but offers little else to entertain.
... more
Saw and Saw II are both good horror films because they were focused on twists and thought-provoking themes related to justice and morals. Unfortunately, this has one thing and one thing only on its mind: to spill as much blood as possible. The film bounces between needless, expositional flashbacks and gore-soaked, uncomfortably nasty torture set-pieces throughout a runtime of 2 hours, which is far too long. In this one, a doctor being held hostage is forced to keep Jigsaw alive while he and his apprentice, Amanda, put an unfortunate man through an incredibly brutal test. Saw III, in fairness, is powerful at times and features surprisingly good performances from those involved. However, it's just too disgusting to satisfy. There's an entire sequence giving close-up detail of Jigsaw having head surgery. Why did we need to see that extremely gruesome sequence? Why? It's just the filmmakers exposing themselves as the immature bloodhounds that they are. This one isn't even particularly scary and is more disturbing than anything else. What's worse, once you get to the end and endure a relentless bummer of an ending which kills off the franchise's 2 best characters and makes all the gruesome bloodshed you've just endured futile, you realize there wasn't even a point.4/10
... more