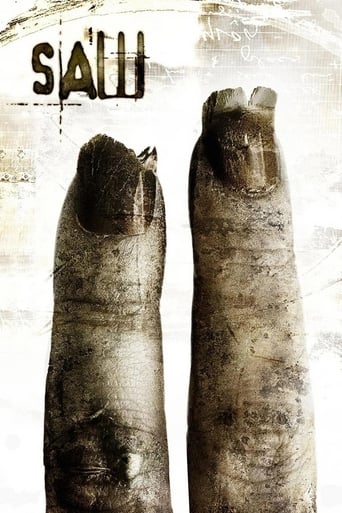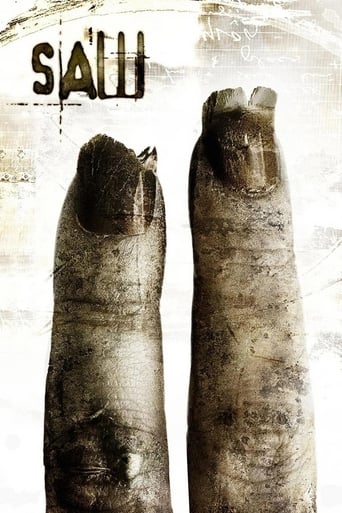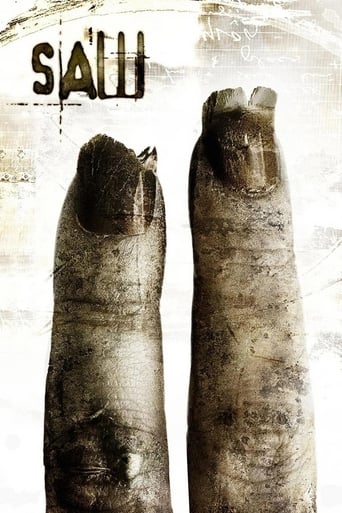 Saw II
When a new murder victim is discovered with all the signs of Jigsaw's hand, Detective Eric Matthews begins a full investigation and apprehends Jigsaw with little effort. But for Jigsaw, getting caught is just another part of his plan. Eight more of his victims are already fighting for their lives and now it's time for Matthews to join the game.
Cast:

Tobin Bell , Donnie Wahlberg , Shawnee Smith , Erik Knudsen , Franky G , Glenn Plummer , Emmanuelle Vaugier


Reviews
Simple and well acted, it has tension enough to knot the stomach.
... more
A great movie, one of the best of this year. There was a bit of confusion at one point in the plot, but nothing serious.
... more
An old-fashioned movie made with new-fashioned finesse.
... more
Finally saw all the 'Saw' films prior to seeing 'Jigsaw' (as part of my wanting to see as many 2017 films as possible this year, during a quieter and less intensive period). Heard a lot about the films, good and bad, but wanted to see them for myself to know what to expect.The films as an overall series are a very mixed bag. The original 'Saw' had a great premise and while it was problematic it was still pretty good and one of the best in the series. Its first sequel is one of its few follow-ups to be just as good and contain what made its predecessor click as well as it did and, while it is full of its own problems, it is one of the better sequels by quite some way. It is very easy to see why people will dislike it, and the 'Saw' films in general, and no it is not because of the full throttle horror-like elements that are not for the faint hearted.'Saw II's' story is just as weak in the dialogue, here quite cheesy, half-baked and repetitive as well as at times rambling and sometimes irrelevant. Actually it's worse, at least the dialogue in the first 'Saw' had some tightness and intrigue, even if they didn't come consistently. The credibility lapses here are just as numerous and just as big, although the character behaviour here doesn't frustrate as much, nothing as bad as that for Danny Glover's character.Its twists are not as bold and are uneven in execution. Some of them are very clever and devilish, like the apprehending of Jigsaw, didn't see that one coming. Others are plain stupid and pretty predictable. The ending is a let-down, instead of the shocking one of the original this one was hideously contrived. The characters, other than Jigsaw and Eric, are basically cliché-ridden filler and are either bland, irritating or both.However, really liked that 'Saw II' was visually more elaborate and slicker than the production values of the first with much tighter, more audacious and more professional-looking editing. Even if one does miss somewhat the effectively claustrophobic feel. The music is eerily unsettling.Despite its ridiculousness, the story is also edge-of-your-seat and highly atmospheric. A lot of it delights and disturbs, with some truly imaginative traps and uncompromisingly brutal demises. The novelty has not worn off yet. The direction is serviceable and once again Jigsaw's modus operandi, impulse and justification sets him apart from most characters of his type.Saying that Donnie Wahlberg is a huge improvement over Cary Elwes is saying a lot, really not that hard to be better and one would have to be bottom of the barrel SyFy/The Asylum-level to be worse. Tobin Bell is terrifying as one of the most iconic villains of the past twenty years or so (or at least to me). Apart from Franky G the actors don't fare shabbily.In short, very uneven but for a horror sequel not bad at all. 6/10 Bethany Cox
... more
There are some films that you never forget seeing for the first time, and 'Saw 2' is one of those for me. Having already been blown away by the brilliant original, to have a sequel that was not only equally as good, but likely better, was incredible. Everything that was so good about 'Saw', the intelligence of the story, the brutality and the themes and messages, were all not only apparent in the sequel, they were amplified. The 'twist' was astonishing and made perfect sense. It made everything that had happened up until that point nothing short of mesmerising. There is no question that this is one of my favourite films of all time.At the time of watching the original 'Saw' it obviously seemed incredibly brutal in its nature. It wasn't until 'Saw 2' came out that we realised just how much leeway they still had to work with. Some of the traps in this film can make even the most hardened veterans of the genre squeamish (I know because I am one). The creativity involved never ceases to amaze me either. Some of the traps like the one where you reach through with your wrists only to be caught there are barely given even screen time, and yet other movies would kill to think up something so devilish and original.The best part about the film though does have to be the story. It's so much fun. The premise works on so many levels. Also if you ever actually stop and think about the message 'Jigsaw' is trying to get across, to appreciate life and live every moment as if it was your last, it's a truly enlightened one. I think this message actually gets lost to a lot of viewers because there is simply so much else going on in these films. This is a film I will never forget for its ingenuity and genius. If you've never had the pleasure of the seeing it, please do yourself a huge favour and do so. A masterpiece.
... more
This is where it all began. Where all what began, you might ask. The film franchise? No, because obviously that began with SAW, the first movie in the franchise. No, SAW II is where the endless sequels to the SAW movies began, each one virtually similar to the last, except that the various traps and torture devices are more extreme and explicit than before. It marked the beginning of the SAW 'Halloween' event, in which cinemas would turn out the latest sequel for 31st October, year after year. Before I sat down to watch this, I was a bit more in the know about it, because I'd already seen 1, 3 and 4, although 2 had slipped me by. It fills in a lot of the gaps and I'd say these movies MUST be watched in the correct order – if not then you have no chance of understanding the intricacies of the plot.As for the movie itself, it's fairly by-the-by. It's not as original as the first film, but it's fairly well made and with a good pacing. It doesn't seem to be quite as vicious this time around, although that might be because I'd seen some later sequels before this. The eye-watering opening scene is horrific stuff but has nothing to do with the rest of the movie. In essence, this is a film a bit like CUBE; a bunch of people trapped in one location, trying to figure out the clues and work together to escape, although it doesn't hold together as well as that film. The hunt for antidotes just seems a little laughable and not very well thought out and realism is a long way away. Tobin Bell is still creepy, but a returning Shawnee Smith is simply irritating here while others like STARSHIP TROOPERS's Dina Meyer are on the sidelines; she had more to do in her one scene in SAW III! Donnie Wahlberg lends a bit of gravitas as the weary cop investigating the case but, again, he doesn't have much to work with other than a few shouty scenes.What of the horror content? Well, there are a couple of nasty deaths – wow, like you didn't guess – including one horrible bit in a glass box with razor blades – and a nasty scene in a pit filled with syringes. There are a few twists, notably towards the climax, which kept me watching. Fans of the series will enjoy it, but newcomers might well find it's more of a makeweight film, purely designed to bridge the gap between the first movie and the later sequels.
... more
Saw II continues the tale of modern horror's greatest villain: Jigsaw. This time, 8 people are locked in a brutal test while a detective, the father to one of the victims, and the police try to save them. S2 is a rough, brutal ride. It has been treated unfairly by critics because of the bloodshed. That's just what it uses for scares. Some horror movies use jump scares. Some use tension. This uses violence and uses it reasonably well. It's not always enjoyable as it does get pretty unpleasant at times, but it is undeniably effective. Therefore, it's easy to write it off as a nasty gore-fest, but it counterbalances the gore with thought-provoking thematic material on morals, justice and how far one will go to save themselves. It's a nasty film, but it is effective. It's far from a perfect movie admittedly. The characters aside from Jigsaw and the main detective are weak, the drama is somewhat superficial, it's not as tense as the first one and things are a bit sillier this time. That being said, it's a watchable and reasonably thrilling horror film, although for many it will be a bit much. It's worth watching for all the twists and turns, as you will never see them coming.6/10
... more