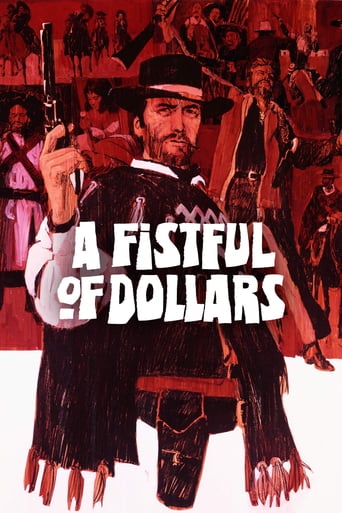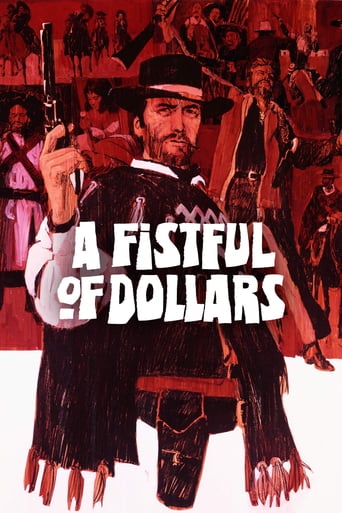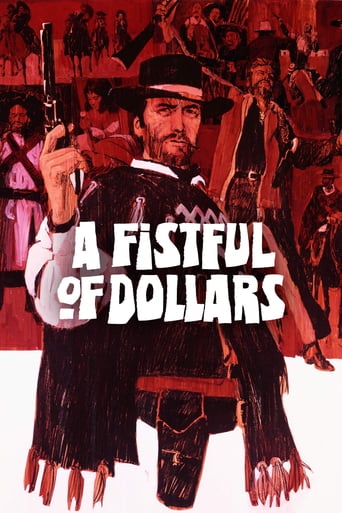 A Fistful of Dollars
The Man With No Name enters the Mexican village of San Miguel in the midst of a power struggle among the three Rojo brothers and sheriff John Baxter. When a regiment of Mexican soldiers bearing gold intended to pay for new weapons is waylaid by the Rojo brothers, the stranger inserts himself into the middle of the long-simmering battle, selling false information to both sides for his own benefit.
Cast:

Clint Eastwood , Marianne Koch , Gian Maria Volonté , Wolfgang Lukschy , Sieghardt Rupp , Joseph Egger , Antonio Prieto


Reviews
Very well executed
... more
Let's be realistic.
... more
This movie was so-so. It had it's moments, but wasn't the greatest.
... more
if their story seems completely bonkers, almost like a feverish work of fiction, you ain't heard nothing yet.
... more
"A Fistful of Dollars" is about a lone cowboy who plays double between two rival gangs for his own benefits. What a smart and talented gunman can do in the deserts of the west, is also one of the subjects Sergio Leone wants to show us in his film. "A Fistful of Dollars" is not purely about a bunch of cowboys killing each other for no good reason. The story is not very deep and everything happens directly in front of the audience. It doesn't have any hidden messages, it doesn't have any U-turns or plot twists. The story of "A Fistful of Dollars" is direct and easy to understand. What is beautiful in the film, beside its casting and story, are the landscapes, soundtracks, that follow the story almost all the time, and Sergio Leone's style of visual direction. His direction techniques show us all the facial expressions of the people with extreme close-ups, and this technique helps audience understand what is going on in that particular scene without the need of a conversation. "A Fistful of Dollars" shows us the technical beauty of cinema. This style of Sergio Leone is inherited from the Japanese director Akira Kurosawa, and "A Fistful of Dollars" was inspired by one of his films, Yojimbo (1961). "A Fistful of Dollars" also introduces us the rising star of Western films, Clint Eastwood, in the absence of Wayne and Honda. Back in 1964, when this film was made, Henry Fonda was already 59 years old and John Wayne 57. They were still making films back then, but by casting Clint Eastwood for his film, Sergio Leone has introduced an alternative star for this genre."A Fistful of Dollars" is a Spaghetti Western. It is a subgenre of Western and also called as Italian Western. This genre was born in the mid-60s because of the distinctive film making style of the Italian director Sergio Leone. American critics were using the name, Spaghetti Western, to describe the Western films made by Italians. "A Fistful of Dollars" is an International co-production between Italy, West Germany and Spain. When it was being made, no one was guessing it is going to be successful. Back then, Sergio Leone was thinking that Italians still react positively to American Western films. So, he took the idea and developed it in Italy. Sergio Leone was not a well-known director back then. This created risk for the production companies to produce this film, not only because of an unknown director but also because of its genre. After all, Europeans particularly Italians were not very familiar with the idea of American Western films. Eventually, the film was released on September 1964 in Italy. Its original release is in Italian. Because of its vast success, both financially and critically in Italy, it was released in the United States in 1967 with its English dubbed version."A Fistful of Dollars" is the first film of the Dollars Trilogy which is also known as The Man with No Name trilogy. The story in these films are not related. The stage names of Clint Eastwood are different in all three films, and they can be watched as standalones. The reason why they are considered a trilogy is because all three films are directed by the same director and the leading actor, even though he is a different character, wears the same clothes, talks and smokes the same in all the films. In order to understand Spaghetti Westerns, you must watch this trilogy. All three films were later released in sequence in the United States which led Clint Eastwood to stardom. The film techniques of Sergio Leone can be easily spotted in the films directed by Clint Eastwood later on. Sergio Leone highly influenced Clint Eastwood as a director, therefore in order to understand the directing style of Clint Eastwood, you need to familiarize yourself with these unique examples of Sergio Leone."A Fistful of Dollars", influenced a lot other films that follows it. Today it is still popular and considered a masterpiece. With its 100 minutes of runtime, it is the shortest film of the trilogy. It was made with a budget of $200.000-$250.000 and grossed up to $14.5 Million which is considered a huge amount for a European western film. This encouraged the trilogy to be born, and from this point of view, "A Fistful of Dollars" is a significant film. Until it has reached to fame, it went through very challenging times. Despite the communication problems in the set, bad release dates and extremely negative reviews from Italian critics, this film managed to find its way to become a historical film.
... more
A fistful of Dollars is the the first film in the Dollars trilogy. The Dollars trilogy is one of the most famous trilogies ever made. But sadly the Dollars trilogy did not start off as a masterpiece. Most westerns made in the 1960s were just OK and were just fun action films and that is what A Fistful of Dollars is. The reason why there was so many westerns made in the 1960s is because they were cheap. A Fistful of Dollars was made on a budget of 200,000 which is quite cheap of films. Constraints of the budget shows and I alway felt when watching this that it was cheap. This film has a famous opening which is animated in silhouettes which does look unique but goes on for too long and some animations are repeated several times. The main chritor (The man with no name) or as I like to call him the man with no character because their really is no aspects about his character that differentiate him from other western characters. And that's not just the main character, there is not much to differentiate this film from other westerns made at the time. But there some will choreographed fight scenes but there is two problems with the fight scenes in this film. Fist it is the aim of the character. Ever time a character shots they never miss. Their shots are alway perfect, This gets rid of the tension that the character might just miss the shot. And whenever some does get shot they have most traumatic reaction to it. It is hard to explain but their reactions are so traumatic and unrealistic that it gets rid of the tension from how distracting it is. And although this film is rated R in America and 15 in the United Kingdom this film has very little blood or blit holes. So there is no indication that someone has just been shot. And I think that's way they all have such traumatic reactions. One of the best parts of this film is the soundtrack. it is some of the best and iconic soundtracks to ever be in a film. All in all A fistful of dollars is just an average western that doesn't really do much to innovate the genre. There are a few cool scenes and a some memorable quotes and a brilliant soundtrack. That is way I give A Fistful of Dollars a 6 out of 10
... more
The first in the trilogy is a little rough around the edges, especially in the dubbing department - thanks to the fact that no on-set sound was captured, so all the English audio had to be looped in for the US release almost three years after its original Italian theatrical run. There's no doubt 'A Fistful Of Dollars (1964)' is an amazing and stylish spaghetti western that stands out as a staple of the wider genre, though. There are times when the plot drags a little and it isn't told as neatly as it could be, but no other director can eek so much tension from people just staring at one another, and the final shootout is one of the best of its kind. When the score kicks in during the long moments before a quick-draw showdown, it's hard not to smile. 7/10
... more
Enjoy the "good bad guy" Eastwood persona and the Morricone music. But don't expect the story line to be realistic and just take it with a grain of salt. For example, Joe (Eastwood) takes the corpses of two Mexican soldiers and positions them leaning against a tombstone. The Baxter and Rojo families then converge on the cemetery -- one to "capture" them and the other to "kill" them before they can be captured. In the ensuing gunfight, the two supposedly "alive" soldiers never move and duck for cover. The Rojo family rejoices when they are "killed". Really? No one notices they never moved when the shooting started? Other things to add to the list: a hundred Mexican soldiers killed with a machine gun and no bullet holes or blood. Only one dead horse. Many more killed during the rest of movie with nary one bullet hole. Marisol punched in the face by Joe but she suffers no bruises or remembers that he did it. The Rojo family burns down the Baxter house where they suspect Marisol might be held. Really? -- you could kill Marisol! Marisol and her husband and son,when "freed" by Joe, being told to walk to the border for safety. No horses, no food, and no water. Good luck -- they're going to need it. You'll find many more.
... more