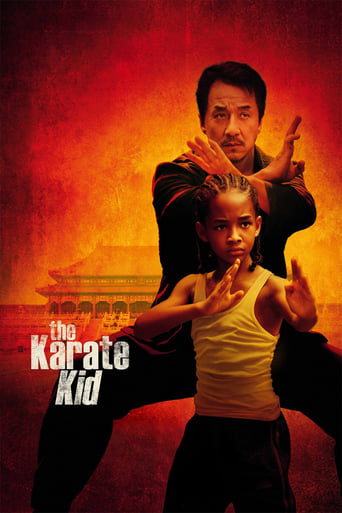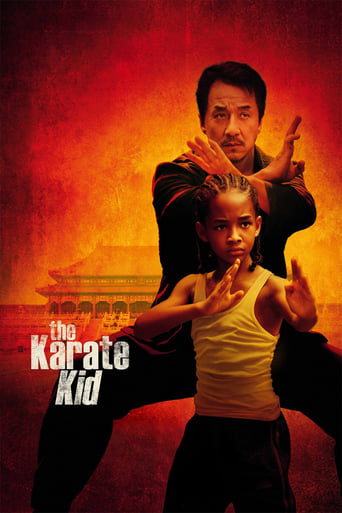 The Karate Kid
June. 10,2010
Trailer
Synopsis
Cast
Keywords
Twelve-year-old Dre Parker could have been the most popular kid in Detroit, but his mother's latest career move has landed him in China. Dre immediately falls for his classmate Mei Ying but the cultural differences make such a friendship impossible. Even worse, Dre's feelings make him an enemy of the class bully, Cheng. With no friends in a strange land, Dre has nowhere to turn but maintenance man Mr. Han, who is a kung fu master. As Han teaches Dre that kung fu is not about punches and parries, but maturity and calm, Dre realizes that facing down the bullies will be the fight of his life.


Reviews
Sadly Over-hyped
... more
Absolutely brilliant
... more
Simple and well acted, it has tension enough to knot the stomach.
... more
There are moments that feel comical, some horrific, and some downright inspiring but the tonal shifts hardly matter as the end results come to a film that's perfect for this time.
... more
Putting aside the obvious comparisons with the original this version of the story about The Karate Kid is surprisingly succesful in recreating the spirit of the boy who fights back. If anyone could pull off the role of the master it was Jackie Chan who excels in the fighting training sequences and acting as the guru to the plucky young kid. He also shows a sensitivity to his character that was different to the original role but worked well here. The star of the show was Jaden Smith who gave a tremendous performance as the winsome young boy who summons up courage to beat the bully. He plays the character with verve, emotional balance, humour and great spirit - and shines on screen as the hero. It is not as satisfying a drama as the original film, but the fighting sequences were better and were more convincing, if less quaint. It has a slightly more viscious quality which impairs the wholesome nature to the film - this was what spoilt Karate Kid Parts II and especially Part III. Nevertheless, it is a different film and despite the title was very entertaining, especially the performance of Chan and Smith. Credit should also be given to Zhenwei Wang for his gruesome bully and the light relief from Taraji P. Henson.
... more
I remember when this movie came out in 2010. I was so mad that they were remaking "The Karate Kid" that I didn't even bother with this movie. I decided to watch it years later after getting over it. This wasn't a bad remake by any means; it had its highs and some lows as well.Jaden Smith is actually pretty good as Drey. While not quite as engaging as Ralph Macchio, he does a good job of showing vulnerability and gradual character growth throughout the film.The best part of this movie is Jackie Chan as Mr. Han. It's actually pretty hard to compare him to Pat Morita's Mr. Miyagi from the original. He is similar in some ways, but different in others, which I appreciated. Like Nostalgia Critic pointed out, whereas the original film had a teacher-student relationship, this one has the teacher and the student teaching each other, which is a nice new spin on it.However, there are many things about it that really don't work. I know that I'm not the first person to point this out, but this was really more like "The Kung Fu Kid" than "The Karate Kid." I respect that they tried to give us something new, but it still has to be karate if that's what's in the title.Another thing is that the supporting characters are nowhere near as appealing as in the original film. The main protagonist's mother, love interest, and even the villains are rather bland and forgettable.The film is too long and would have been tighter if it were maybe 20 minutes shorter.It still wasn't a bad movie. It's reasonably entertaining and will have you cheering in the end when Drey wins the tournament. However, this movie still didn't need to be made, and it pales in comparison to the original "Karate Kid." There's still enough here to warrant a slightly above-average grade.RATING: C+
... more
Eye-bleedingly awful! This abomination ranks up there with other remakes of movies such as The Jungle Book, Arthur, The A Team and Rollerball, etc. But it happened and Hollywood got rich and the audiences got duped... AGAIN!The story: A horrible and annoying black woman takes her little girl to China. The wee lass meets a creepy, sullen old man and in a bizarre turn of events, she gets entered into a Kung Fu competition even though she's never done a day of martial arts training in her life. Despite the diminutive doll getting a really good beating, the mother is on the sidelines laughing it up and hollering her support. In the end, the girl stands on one foot and beats her enemy and all the odds.The story is backed up by hilarious, comedy fight scenes and frankly bizarre musical numbers... including a bastardization of a Stevie Wonder classic. Dr Dave Bowman and Hal had more chemistry than any of the insipid morons in this crap-fest and Hal was a computer!If you're suicidal and need that extra push to get the job done, watch this!UPDATE: It turns out that the little girl was, in fact, a little boy. Oops!
... more
No spoilers is what I have to promise you here.This movie was a clear 10-out-of-10 because it carried all the ingredients that a true Kung Fu movie needs. It showed how life has kung-fu written all through it, and how strength does not come from our muscles, but it comes from the heart. The film portrays a young 12-year old boy from Detroit Michigan who moves to China with his mother. By showing this boy the formula for the kung fu religion, his teacher tells him the true story of his own life and how what he may have lost in life, made him a master in kung fu. This makes the boy, in turn, also become an eager learner because he too... loses something very valuable.And the story goes on from there.I have never seen a better kung fu movie in my life, and this in my honest opinion blew away the original because it brought back so many of the missing themes that the book has. This felt more like the book.I hope that some of you agree that rating this under a 10 is not acceptable. Life is Kung fu, live with the yin and yang or you do not live at all.
... more