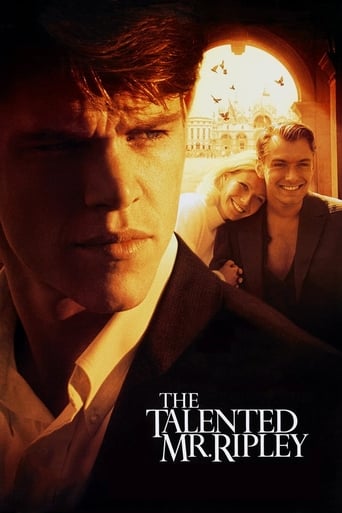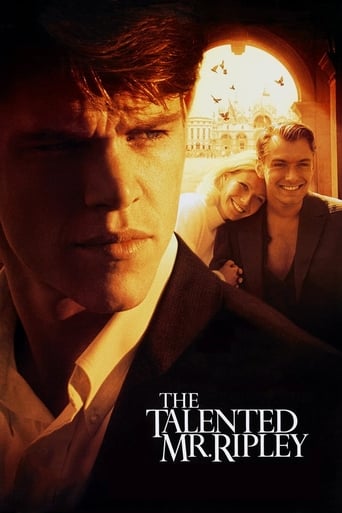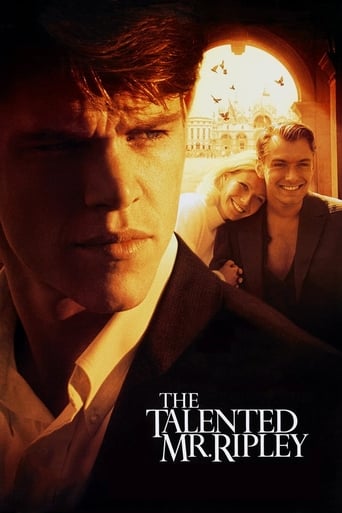 The Talented Mr. Ripley
1999
2 hr 19 min
Drama , Thriller , Crime
Tom Ripley is a calculating young man who believes it's better to be a fake somebody than a real nobody. Opportunity knocks in the form of a wealthy U.S. shipbuilder who hires Tom to travel to Italy to bring back his playboy son, Dickie. Ripley worms his way into the idyllic lives of Dickie and his girlfriend, plunging into a daring scheme of duplicity, lies and murder.
Cast:

Matt Damon , Gwyneth Paltrow , Jude Law , Cate Blanchett , Philip Seymour Hoffman , Jack Davenport , James Rebhorn


Reviews
You won't be disappointed!
... more
It's hard to see any effort in the film. There's no comedy to speak of, no real drama and, worst of all.
... more
it is finally so absorbing because it plays like a lyrical road odyssey that's also a detective story.
... more
At first rather annoying in its heavy emphasis on reenactments, this movie ultimately proves fascinating, simply because the complicated, highly dramatic tale it tells still almost defies belief.
... more
Matt Damon carries this complex and unconventional thriller. Great production values.
... more
I have seen in the past years more than 500 movies. I just saw this movie, and I must admit that I never seen a movie like this. It affected me differently than other movies. most movies don't spend this much time in getting the viewer to know and feel connected to the characters. This movie spends an entire hour getting the viewer to know the characters before the main plot even begins.
... more
Academy Award winning director Anthony Minghella once again assembles an all star cast in his adaptation of Patricia Highsmith's bestselling thriller about a duplicitous youth who is sent to fetch a wayward young millionaire from Italy. The story turns darker when the titular Mr. Ripley's numerous lies and secrets begin to surface forcing the young man to resort to deadly methods to hide the treacherous truths.In the pivotal role of Tom Ripley is an ever charismatic Matt Damon, pulling out all the stops to play such a wicked character who we can't help but be attracted to. Tom Ripley is such an enigma that we never really learn where he is actually from or why he does so many horrible things and Damon maintains the air of a faux gentleman. The actor even took time to learn piano which is a key element to throwing Tom into the narrative when Tom is overheard playing at an elite party where Mr. Herbet Greenleaf hears the young man and assumes that Tom knew his son, Dickie (Tom wears a borrowed Yale jacket which was where Dickie attended college before leaving for Italy) which Tom lies about. Damon even lends his singing chops to a song or two for the film's lighter moments. Throughout the film, Damon manages to play a vast range of emotions from confidence to fearful of discovery to murderously methodical all while sporting a seemingly innocent charisma masking a veil of a youth scared of being discovered for his falsehoods. The film boasts a talented supporting cast in the likes of Jude Law (Oscar nominated for his effort) as Dickie Greenleaf, the unfortunate target of Ripley's dark ambitions, Gwyenth Paltrow (far less irritating than usual) as Dickie's girlfriend, Marge Sherwood who becomes suspicious of Tom's motives, the late Philip Seymour Hoffman as Dickie's friend, Freddie Miles who gets too close to the truth and pays a steep price, Jack Davenport (most famous for the "Pirates of the Caribbean" trilogy) in an expanded role as Peter Smith-Kingsley, friend to Ripley after Ripley flees his dark actions but is the final casualty by the end of the film and Cate Blanchett as Meredith Logue, a fellow traveler who is also a victim of Ripley's lies but never finds out who Tom really is. Even minor players like the late James Rebhorn as Herbet Greenleaf and Philip Baker-Hall manage to make an impression.Director Minghella deftly adapts the story with a keen eye as he ramps the tension as Tom Ripley's lies begin to spiral out of control and he must resort to drastic measures to cover his tracks. As Tom's obsession with Dickie grows, we feel nervous and afraid for Dickie as we wonder what Tom will to get what he wants. Even when Tom commits horrible deeds, we fear for the villainous young man wondering if he will get caught. The film also exudes exquisite cinematography of its Italian landscapes that makes the setting a character of its own as the story's characters travel across the country from Venice to Rome and in-between on the canals and seas.
... more
Having said that, I've read a lot of the other reviews, and many seem to feel the characterization of Ripley in the book is superior to the film version. It sounds like the novel's Ripley was a more proactive kind of a guy: rather than waiting for things to happen to him, he went out and MADE them happen. That approach would seem to make more sense in this kind of drama. The Ripley of the film was almost inert. The only real effort he put into the story line was to learn something about jazz. Opportunistic in only the most passive of ways, he allowed events to wash over him like ocean waves and then only sprang into action when it was absolutely necessary to direct the events himself. This type of character rarely reaches significant levels of success in his chosen field, whether it's brain surgery or identity theft.I'll admit that I had my doubts about the plot from the start, right from the time Ripley "connected" with Greenleaf Senior over the Princeton jacket. I have a little experience with the "old boy" system and I find it almost impossible to believe that Ripley was able to convincingly present that he was ever at Princeton because I know the kinds of questions that always get asked when an alma mater is being discussed among fresh acquaintances.I'm one who didn't mind the length of the film, at least; it seemed to want to have a lot to say and I was fine with how long it took to try and tell it. I don't have much of an opinion on Matt Damon one way or the other, but he was nothing special here. Jude Law and Philip Seymour Hoffman turned in the best performances by far. The location shooting was beautiful.All in all, there was enough here to make me curious about reading the original novel someday, but the film itself is only average.
... more