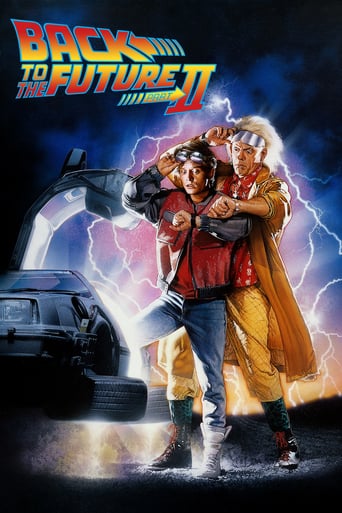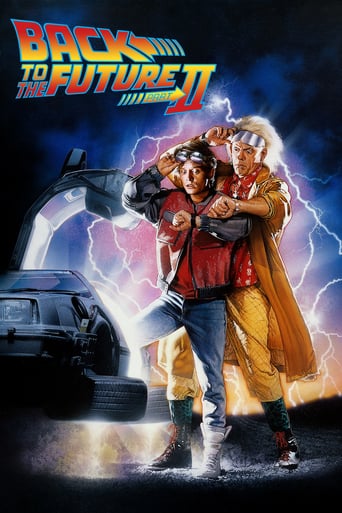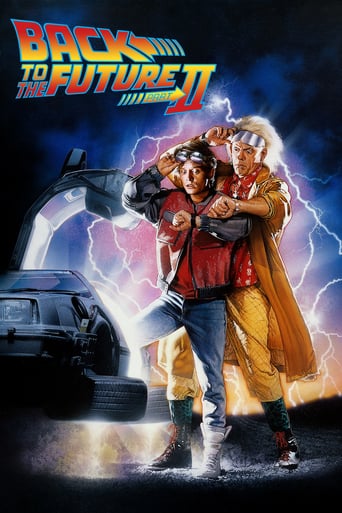 Back to the Future Part II
1989
1 hr 48 min
Adventure , Comedy , Science Fiction , Family
Marty and Doc are at it again in this wacky sequel to the 1985 blockbuster as the time-traveling duo head to 2015 to nip some McFly family woes in the bud. But things go awry thanks to bully Biff Tannen and a pesky sports almanac. In a last-ditch attempt to set things straight, Marty finds himself bound for 1955 and face to face with his teenage parents -- again.
Cast:

Michael J. Fox , Christopher Lloyd , Lea Thompson , Thomas F. Wilson , Elisabeth Shue , James Tolkan , Jeffrey Weissman


Reviews
Pretty good movie overall. First half was nothing special but it got better as it went along.
... more
This story has more twists and turns than a second-rate soap opera.
... more
This is one of the few movies I've ever seen where the whole audience broke into spontaneous, loud applause a third of the way in.
... more
Acting is amazing, and knowing that 2015 was nothing like the 2015 they were thinking about (except for the cubs) I think the clothes from that era were laughable. But they still got it!!!!
... more
OK for me this wasn't going to be as good as the first, I was excited for it to see where they'd take the story next. Basically it threw a spanner in works right away when they jump forward to sort out Marty and Jen's kids. By the Doc coming back and getting them into the car and TAKING THEM OUT THE TIMELINE what did he think he'd find when he got to the Future.The basis was sent in the previous film when he jumped the DeLorean forward at Twin Pines Mall with the dog in it, the dog physically left the timeline to reappear 1 minute later. So by taking Marty and Jen out the timeline they should have appeared in 2015 with a changed scenario from Doc's perspective then that would have been the face palm DOH!!!! moment.The future tech was good Hover Boards the Nike Mags etc but then they went back and forth and it got all a bit muddy and busy story wise. When dealing with time film makers always over speculate progress of technology, The classic Blade Runner done this also, we're only 2 years away from 2019 and no where near the Technology suggested in the movie but that movie can be forgiven as it's so bloody good.This however is a film I can't be bothered to watch again, the other two yes but this one not really
... more
After visiting 2015, Marty McFly must repeat his visit to 1955 to prevent disastrous changes to 1985...without interfering with his first trip. Back to the Future Part II is not only way more fun than the first film but it's also way more on Nostalgia than the first one was the 2015 scenes were hilarious and very nostalgic from the skateboards to the jackets and the shoes also that scene with Jaws 19 is still great after all this years and yes the shark still looks fake also once again Michael J.Fox and Christopher Lloyd were fantastic as Marty and Doc Brown and although there's some plot holes or things that make no sense every single one of this big time travel films about multiple timelines and paradox are the same for a example Terminator Genisys had the exact same story it had an alternative 1984 just like Back to the Future 2 had an alternative 1985 you can easily change both the past and the future. Overall the film plays both in the past and the future and it does it so well also the Alan Silvestri soundtrack is iconic and it reminds me a bit of Predator another great 80's film and that's why i'm gonna give BTTF II an A+
... more
From the start it created sense that it's going to be complicated and it continued to be throughout whole movie, as they were desperate to explain everything that is happening and move almost whole focus on that you are being left with too little space for plot. Plot is a bit twisty and keeps you thinking about it whole time as it changes from future to present to past and great help was that comedic creation of scenes and characters that are funny. Whole new adventures for Marty and Doc are made and sometimes it was very enjoyable to watch. Again Marty is very well played character that keeps the movie going and with great help of Emmett they made a movie that is not as good as the first one but you can enjoy the movie knowing that altering something is going to create a new path in past and you are always moved to see what they did. 3/4
... more