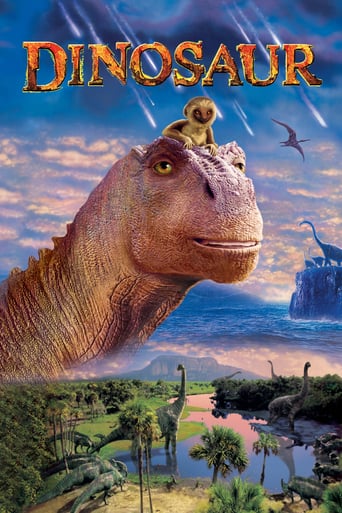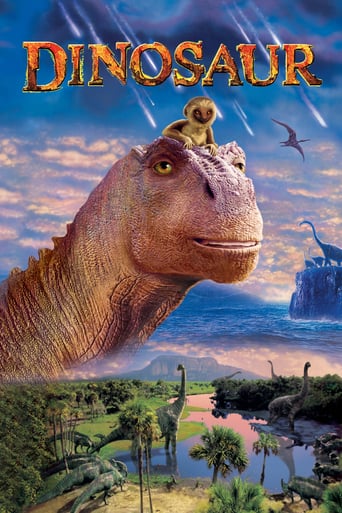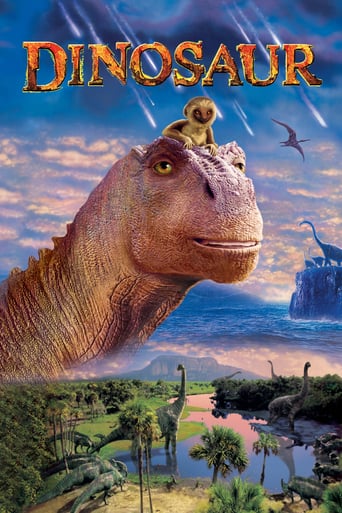 Dinosaur
2000
1 hr 22 min
Animation , Family
An orphaned dinosaur raised by lemurs joins an arduous trek to a sancturary after a meteorite shower destroys his family home.
Cast:

D. B. Sweeney , Alfre Woodard , Ossie Davis , Max Casella , Hayden Panettiere , Samuel E. Wright , Julianna Margulies


Reviews
Save your money for something good and enjoyable
... more
People are voting emotionally.
... more
In truth, there is barely enough story here to make a film.
... more
The film creates a perfect balance between action and depth of basic needs, in the midst of an infertile atmosphere.
... more
I haven't seen this film since I was a little kid. I watched this because my little sister But the animation in this film is amazing. It seems different from the 3D animations Disney is doing these days. The characters don't always look extremely realistic when looking at their face, but every hair on the fur of those lemurs is visible to the eye. And every scenery, which apparently are sometimes actual real locations, is extremely beautiful. I can't compare the visual side of Dinosaur to any other animated movie. Nothing comes close.But that's where that ends. The plot doesn't feel too interesting to an adult, of course children might think it's exciting. The plot and everything else is mostly just typical Disney stuff and nothing extremely interesting. The best part of this film is no doubt the visual side.
... more
I honestly don't see why people are so upset whit this movie. Yes, there is talking dinosaurs, but how are you supposed to understand them otherwise. Mute dinosaurs walking around wouldn't be interesting at all and remember, this is a kid's movie. And yes, the animation might not be as good as in Jurassic Park, but this is a fully animated movie, JP used a mix of animatronics and CGI inside an otherwise live action movie, and in a interview I saw, Spielberg (or if it was a special effects guy, I don't remember) said that they would use the animatronics when ever possible and only cover up rigs and refine movement with the computer 'cause the CGI models looked like crap in comparison the robots. And yes, the story has been used before, but so has the story in most films we're watching today, only in varying degree and in different mixes and it's not like Disney is known for their originality story wise. As good as everyone of their Classics are based or inspired by other works.Personally I love this movie. The CGI is still good, and at times more realistic than many rushed animations we see today, the characters are fun to follow, unlike Land before Time were they were unbearable and made me hate the movie (even as a kid the first one was never my favorite) despite a similar story to Dinosaurs', which I by the way like, and the moral of it is a really good one.
... more
I want to get this out there I loved this movie. However it's the story line, people its Moses again a young-ling is separated from its kind and is raised by someone else re united with his kind and emerges a leader. Reused but okay another thing is THEY TALK! Come on I thought they were going for a serious approach and with the story they're trying to tell I think you can't do it with this kind if dialogue. However I liked aladars character and his compassionate nature, I liked when bruton realized his mistakes and is willing to die, and I loved the elderly dinosaurs who despite being slow still have hope. The one quirk is the talk you can't have that dialogue with this kind of story. Despite that it is a great movie with great action and lessons that remains as one of my favorite Disney films
... more
I mean, I don't understand why lots of people hated this movie. Sure, it isn't a masterpiece due to it's flaws that I will point out in a moment, but before I can get to those flaws, I would like to point out the redeeming qualities. I like the premise: An iguanadon named Aladar and his adopted family of monkeys walk to find a new home after their's was destroyed by a meteorite to find themselves in a conflict by joining the other dinosaurs led by Kron and Neera while being chased by Carnotaurs and velociraptors. It was very interesting, but Disney, being a master of storytelling, didn't bring anything new to the story and it's character development was lacking.The characters, while undeveloped, are at least likable and the voice acting suited them really well. The script has some nice moments including the romance between Aladar and Neera which makes them a very cute couple to watch. The music from James Newton Howard is amazing and has been stuck to my head since I was a little child when I watched this a few more times. The strongest aspect goes to the computer animation. The prehistoric environments are amazing and are some of the best visuals I've ever seen in an animated film from my childhood.Overall, Dinosaur may not be a masterpiece, but I still love it today and I think this would always be recommended to those who like computer animation and traditional animation.
... more