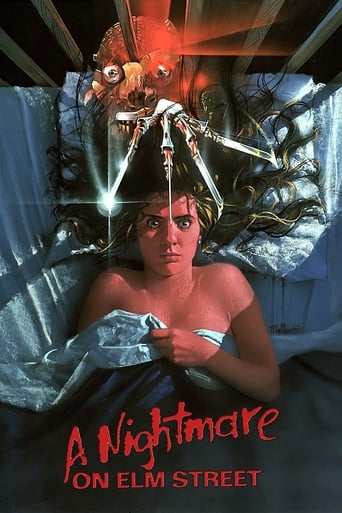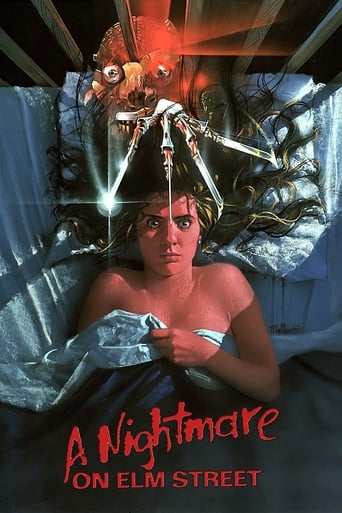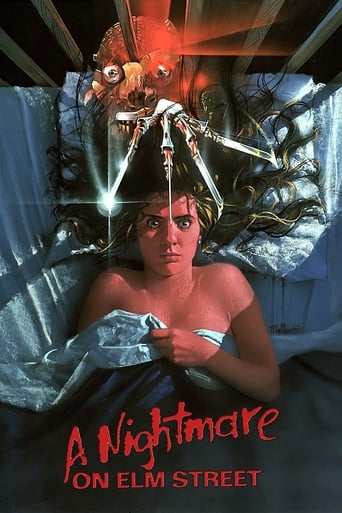 A Nightmare on Elm Street
Teenagers in a small town are dropping like flies, apparently in the grip of mass hysteria causing their suicides. A cop's daughter, Nancy Thompson, traces the cause to child molester Fred Krueger, who was burned alive by angry parents many years before. Krueger has now come back in the dreams of his killers' children, claiming their lives as his revenge. Nancy and her boyfriend, Glen, must devise a plan to lure the monster out of the realm of nightmares and into the real world...
Cast:

John Saxon , Ronee Blakley , Heather Langenkamp , Amanda Wyss , Jsu Garcia , Johnny Depp , Robert Englund


Reviews
Very disappointing...
... more
Excellent, Without a doubt!!
... more
After playing with our expectations, this turns out to be a very different sort of film.
... more
Through painfully honest and emotional moments, the movie becomes irresistibly relatable
... more
The scariest thing about 'A Nightmare On Elm Street (1984)' is its fantastic concept, one of the most inherently frightening and interesting cinematic ideas ever conceived, which paves the way for some superb surrealist imagery (created using wonderfully inventive practical effects that still hold up) and a general off-kilter feel that perfectly provoke a pervasive and persistent nightmarish vibe that makes the film really stick in your mind long after the credits roll. The mysterious villain, a sadistic scarred serial-killer who's become incredibly iconic despite only having seven minutes of screen-time (though his presence is always keenly felt), relishes in the terror he causes his teenage victims and his design expertly plays upon several primal fears to feel like something straight out of a bad dream; we're also never spoon-fed his motivations (though some back-story is given which allows us to infer his incentives) or given a clue to exactly why he occupies the so-called 'dream world'. It's the ending that causes the most concern as the darker take, pushed for by a producer who essentially vetoed Craven's well thought-out 'happier' finale, basically ruins a killer reveal seen just moments prior and doesn't even really make sense in the context it itself presents. Still, the film isn't ruined by this and remains one of the best 'slashers' of its time. 8/10
... more
There is something really visceral and real about the first entry of the Elmstreet series. This movie was made before Freddy was an icon and the sequels almost turned it into a parody of it self. Even Johnny Depp was just an unknown kid. Even the make-up and special effects are way beyond the sequels; more gritty and life like. It's almost a snuff movie. Don't get me wrong I like all the movies, but this one is the best in the series, in my opinion. The acting is great, the story is to the point and has no fat to speak off, and the special effects look great and hold up very well today actually. Looking at the Freddy make-up; it's especially gruesome instead of rubbery. A great teen-angst movie and the best of the series.
... more
Aside from its clunky ending, A Nightmare on Elm Street is my favorite horror movie of all-time. For starters, Freddy Krueger does not discriminate, and he will haunt your dreams no matter your age. Aside from Alien's "In Space, No One Can Hear You Scream," "Don't Fall Asleep" is the second-best horror movie catchphrase of all- time.After Friday the 13th and the 80s slashers took the scene, Wes Craven came through with a whole different evil villain in Freddy Krueger, a former child murderer that kills kids in their dreams. I'm sorry, what?He got the idea from a string of stories ran in the LA Times about a young child that had survived the field killings in Cambodia. After a slew of nightmares, the young boy was found dead in his house after dying in his sleep. The police found a coffee pot in his closet with an extension cord running up under his bed and plugged into the wall. He obviously didn't want to fall asleep either. Craven ran with the story and created the most heinous, vile monster in horror movie history. With some Hitchcock elements spun throughout, A Nightmare on Elm Street is a fantastic ride from start to (almost) finish. The mood, music, atmosphere, shots, effects, blood, kills, and nightmares are all perfect. There are a few scenes that you watch and say "Wow, that's a classic cinema shot," or "Holy hell that's terrifying". Some scenes make you feel like Freddy Krueger is actually out there waiting for you to fall asleep tonight.Heather Langenkamp, aka Nancy Thompson in the film, works perfectly here. All of the characters do really. There are some missed opportunities, sure, but it all works out and there are times throughout the film where you feel trapped inside a boiler room, a terrible nightmare or a dangerous place and think, "Is this really happening to me?" The ending is a bit clunky and takes the fear away a bit, but I also think that is part of the point. As Nancy fights back and becomes the ultimate bad-a#$, Krueger becomes less and less of a threat. Facing your fears is difficult, but Nancy shows us the courage and tenacity it takes to destroy an evil entity like Freddy Krueger. Or, does she?
... more
This is a really good flick. yeah sure they're some pointless sequel but this one stands the best like bigger than the remake. The characters are well develop. The acting convince me that Freddy could be real. This movie is actually worth watching like watch this before you watch the remake; (I haven't watch the remake for a long time) anyways good film recommend it.
... more