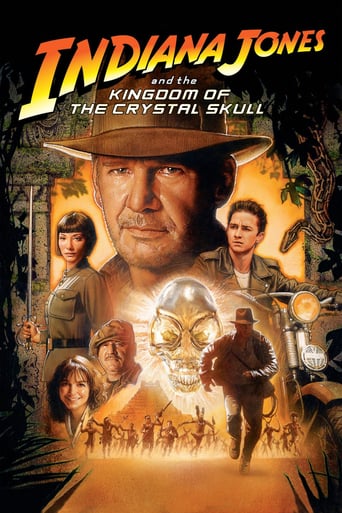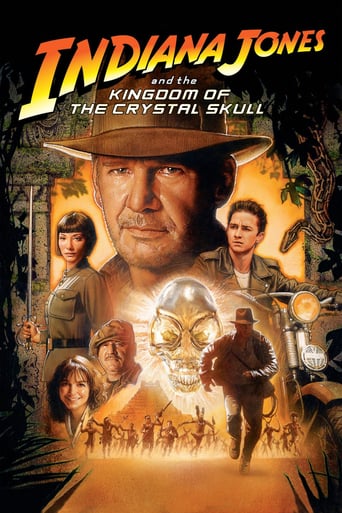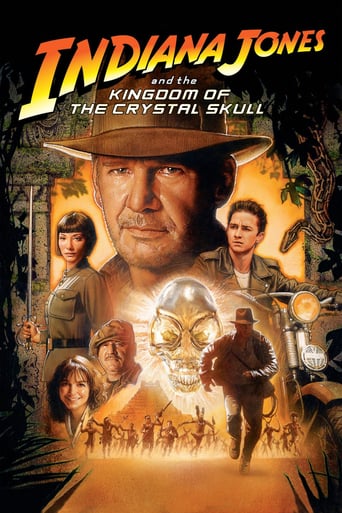 Indiana Jones and the Kingdom of the Crystal Skull
2008
2 hr 2 min
Adventure , Action
Set during the Cold War, the Soviets—led by sword-wielding Irina Spalko—are in search of a crystal skull which has supernatural powers related to a mystical Lost City of Gold. Indy is coerced to head to Peru at the behest of a young man whose friend—and Indy's colleague—Professor Oxley has been captured for his knowledge of the skull's whereabouts.
Cast:

Harrison Ford , Cate Blanchett , Karen Allen , Shia LaBeouf , Ray Winstone , John Hurt , Jim Broadbent


Reviews
A brilliant film that helped define a genre
... more
At first rather annoying in its heavy emphasis on reenactments, this movie ultimately proves fascinating, simply because the complicated, highly dramatic tale it tells still almost defies belief.
... more
It's a good bad... and worth a popcorn matinée. While it's easy to lament what could have been...
... more
This is one of the best movies I've seen in a very long time. You have to go and see this on the big screen.
... more
Now let's counter two main criticisms of this movie straight off the bat.... 1. The fridge; the focus on the fridge scene has been compared to "Jumping the Shark". Unfair. Is surviving a nuclear explosion in a 50's fridge really anymore unbelievable than freefalling from a plane in a rubber lifeboat? 2. Aliens; so what?! Is it more unbelievable than the Ark spouting spirits and melting Nazi faces or the Grail giving eternal life? Answer to both questions is no. All of Indy's adventures need a good helping of suspension of disbelief. When you're basing something on Republic Pictures Serials, that is exactly the point, believability comes second to action, adventure, thrills and spills.Now to my only criticism... the CGI. Now I'm not against CGI but I personally think that Lucas and Spielberg should've stuck to old school practical and photographic effects in the vein of the original trilogy. Yes it would've looked dated and clunky but that would've fitted nicely into the Republic Pictures Serials tribute that the Indy movies are. Yes a big chunk of the jungle DUKW chase wouldn't have been possible but my feeling is that it would've been more exciting to know that stuntmen are really carrying out some derring-do - like the famous 'dragged under the truck' scene - rather than knowing Shia and Harrison are stood on boxes covered in green blankets! An old school movie should use old school techniques so that it looks old school.That criticism out of the way let's review this by list - the Indy films listed best to worst:1. Last Crusade 2. Raiders 3. Kingdom 4. DoomForget reality for a couple hours. Watch it. Enjoy it.Even better, re-watch the other three first and make a night of it!
... more
This movie is for those craving old school filmmaking of the early 90s. If you can accept it as a parody that doesn't seem like it is ACTUALLY trying to be a parody, then this movie is for you. Loved the old Indiana Jones movies. This one is ridiculous in not a good way.
... more
The frustrating part about Indiana Jones 4 is that it feels like it was written by someone who created a genius trifecta of revolutionary action classics that changed the course of film history, and then completely forgot what made people like them when it came time to do the next film. Was this written by George Lucas? Oh, it was (real surprise). He is credited as coming up with the story, and, yeah, the basic framework of the script really is the worst part. The original film was inspired by 30's adventure serials, and although it doesn't parody or satire them, it creates a world in which the events of the story can be taken with a grain of salt, so to speak. This world was successfully recreated in two masterful sequels, but the fourth movie had no idea how to do so. It results in an overly emotional and sentimental movie that occasionally devolves into self deprecation, making jokes about Harrison Ford's age. And the idea to base it off of 50's sci-fis while still retaining the 1930's action edge makes no sense. I mean, what? However, Spielberg, the other half of the duo of series creators, absolutely knows what he is doing. I imagine Lucas as Spielberg's drunk friend who makes dumb choices, and then Spielberg half-reluctantly supports him. If George is going to come up with a stupid story line, Steven is going to direct the sh*t out of it. He creates a visually appealing, tonally satisfying (even though the script tries not to be) experience, filled with fun performances, great dialogue and spectacular action. Janusz Kaminski is the perfect cinematographer for an action movie like this, because he is great at pulling off one of Spielberg's signatures: really long takes that seamlessly move from focal point to focal point without the use of cuts. The camera kind of floats around and is almost always moving, reminiscent of many Robert Zemeckis movies. The action is always striking, even the oft-panned fencing duel between Shia LaBoeuf and Cate Blanchett. I actually like that scene, and I think it would have totally fit in one of the originals. Another thing that I like about Kingdom that most don't is Shia himself. He gives a very natural and funny performance. I don't even have an "except" or "but" to counter that statement with. I just think he is great, and probably gives the best performance in the movie. I like his character a lot, actually, and his interactions with Indy, who is once again pure gold. The characters are all well developed, but the only one I can't stand is Mac. He is the most utterly confusing character I have ever bared witness to. He is revealed to be working for the Russians, and is a secondary villain for well over half the movie. Suddenly, after a short encounter with Jones, where he pathetically begs him for sympathy, he is allowed into their vehicle and completes the journey back on their side. What the heck? There is pretty much no reason for this to happen, and then he turns evil again at the end! He is then sucked into a vortex and Indy tries to save him (I don't know why), to which he says "I'm gonna be alright." What? No you're f*cking not! He then flies into the vortex, screaming, and dies. This is one of the most baffling characters in film history. He doesn't have an arc, he has more of a loop-de-loop. While on the topic of baffling, awful things in Kingdom, I should touch on the monkey sequence and the nuketown sequence. They are both completely pointless to the story, they both defy all logic, and one of them (the monkey one) is absolutely awful looking. I'm really ragging on this movie, but I don't hate it, not at all. I would actually recommend it, at least for Spielberg. There's a couple bad scenes, as well as a somewhat confusing story line. They don't ruin this extremely well directed, acted and put-together movie, although they certainly don't help.
... more
Steven Spielberg is back as director, with a George Lucas story and a John Williams score. Harrison Ford reprises his role as Indiana Jones, Karen Allen is back as Marion Ravenwood, other stars to feature include John Hurt, Cate Blanchett, Shia LeBouf and Ray Winstone. It's the era of the cold war, the Russian's replace the Nazi's as the main threat. When a young man brings Indiana a coded message from Harold Oxley he sets forth on an epic adventure to rescue him and uncover the truth about the crystal skull, an ancient myth and treasure. Indiana Jones fans have been waiting almost 20 years for this film and unfortunately most fans were extremely let down by it. Not much has changed for Indiana which was sorely needed as film goers have grown and become more intelligent. The story is extremely far fetched and the delivery at times is wet and almost camp. It's almost like this is a tongue in cheek parody of the Indiana Jones films which came before it. It feels like this was a retirement pay check for a lot of the senior crew and cast, and a last ditch attempt for younger turns to make a name for themselves. Maybe I'm too old, maybe this film is aimed at a really young and juvenile audience rather than somebody who grew up watching these films. Perhaps the intention was to spawn a video game from this because with the blocks of action that there is, I'm sure it could easily be translated into different levels of a platform adventure game. This, for me, and evidently a lot of others, is the worst Indiana Jones film to date. Where as with the other films, if I got a chance to watch them I'd jump at it, with this one I'd happily keep walking and not bother. Too much CGI and green screen, far fetched action (casing point being that stupid Tarzan scene - you!). I honestly could keep rolling with the negatives but I feel I should force myself to stop writing and just say that the previous films are much better and I'd happily forget that this was made. For God's sake please don't let there be a spin off with Shia LeBouf as the new Henry Jones the 3rd because that's what it felt like this was building up for, just let the dead rest because this seems to have practically killed off the franchise. I'm giving it a 5 out of 10, is this was the only Indiana Jones film it would be harmless to watch, but knowing what has come before I just couldn't buy into and enjoy this. Good luck!
... more