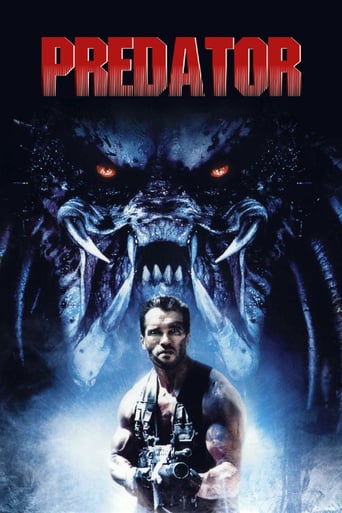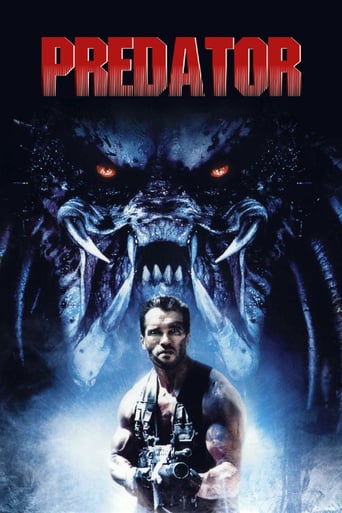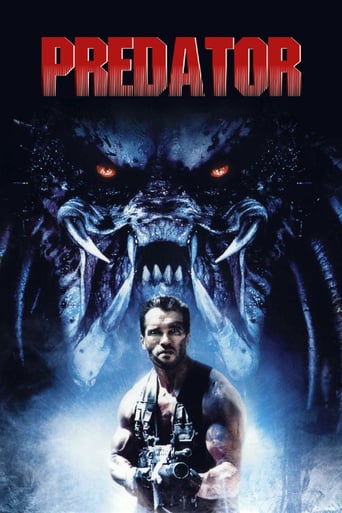 Predator
1987
1 hr 47 min
Adventure , Action , Thriller , Science Fiction
Dutch and his group of commandos are hired by the CIA to rescue downed airmen from guerillas in a Central American jungle. The mission goes well but as they return they find that something is hunting them. Nearly invisible, it blends in with the forest, taking trophies from the bodies of its victims as it goes along. Occasionally seeing through its eyes, the audience sees it is an intelligent alien hunter, hunting them for sport, killing them off one at a time.
Cast:

Arnold Schwarzenegger , Carl Weathers , Elpidia Carrillo , Jesse Ventura , Sonny Landham , Bill Duke , Richard Chaves


Reviews
Simply A Masterpiece
... more
While it is a pity that the story wasn't told with more visual finesse, this is trivial compared to our real-world problems. It takes a good movie to put that into perspective.
... more
A great movie, one of the best of this year. There was a bit of confusion at one point in the plot, but nothing serious.
... more
The biggest problem with this movie is it's a little better than you think it might be, which somehow makes it worse. As in, it takes itself a bit too seriously, which makes most of the movie feel kind of dull.
... more
Predator works as an action, sci-fi and horror film that set as much trends for the genres as Alien did. Both genres contain excellently designed creatures, memorable characters and musical scores. People grew up with the two film franchises and enjoy both for a reason, both are iconic and enjoyable, both set the stage for films today, both are regarded as two of the greatest sci-fi films of all-time. The reason I say this is because I constantly hear the argument that Alien is better when in all actuality, they're two different and iconic films that set the stage for a new generation.
... more
This is one of Arnie's best movies, and it still holds up quite well. There are some effects that are outdated, but otherwise it's still very good, and the only good movie with a Predator in it. The effects have improved in recent movies but they still haven't put one out that's as exciting as this debut. I'm curious with the new upcoming movie by Shane Black-who starred in this original. If you enjoy this, I'd Alien Vs Predator (the first one) is not too bad. Also Predators is ok, but I have yet to rewatch Predator 2. There are also a lot of really good comics with Predator in them, including crossovers with some super heroes.
... more
One of the greatest alien movies ever made. The idea itself of a hunter killing for pride and manhood is genius, but I have to say the movie is not very autentic. Typical "who will survive at the end" american action with musscle men and a lot of guns. For it's time it is great, I was six when I watched it and I was like: "Noo, how could he kill the Predator, I liked him!" Do you really think if in reality grown men with power and obviously no problem of killing other men were found a helpless girl, at the forest, far from eyes and judgement, they should not rape her and probably kill her? And one more thing, it was pretty not realistic about shining eyes of the Predator, who ever created that? Being invisible - fine, non waterproof armor - fine, shining eyes? What for? How? Watever, I am waiting the next Predator movie and I hope they won't mess it up.
... more
The film Predator gives us a action film that some are still trying to recreate today. Reminiscent of films like Alien and Rambo, McTiernan takes the best qualities from those films and uses them to his benefit. The performance he gets out of Schwarzenegger is one that is unforgettable, classic one liner after another. The action sequences are fun and keep the intense pacing of the film going. The supporting actors have great personalities but can be viewed as a little cliche. The dialogue presented can be cheesy at times, but avoidable because everything else going on keeps you distracted."The Predator" himself is a very interesting looking creature and is still passable to this day. The visual effects seem a little outdated at times, but still get the "invisibility" point across. Throughout the movie the musical score from Alan Silvestri can be heard at the most dramatic of times. Predator is a fun action movie that has a very high re-watch value. I wouldn't be surprised if there are more sequels to come. Directors will continue to fail in making what the original Predator is. I would recommend this to anyone wanting a good summer action/sci-fi flick.
... more